Watson Conversations is a growing collection of podcasts produced by Wheaton students as part of Art History 298 and Art History 240.
Art History 298: Photography as Knowledge
Recorded in the spring semester of 2013, these podcasts were created by the students of Professor McBreen's Photography as Knowledge course (ARTH 298).
Students located and researched their own 19th-century French photographs, with the final goal of proposing them as acquisitions to Wheaton's Permanent Collection.
Individual podcasts, complete with their inspiring images, can be found below:
Art History 240: Art of the Avant-Gardes, 1900-1945: France, Germany, Italy and Russia
We made these enhanced videos as part of our coursework for Art of the Avant-Gardes, 1900–1945 (Spring 2011, Professor Ellen McBreen). In the first half of the semester, we researched and wrote individual essays about 20th-century works in Wheaton's Permanent Collection, made by artists who were members of the avant-garde movements we studied in our course. We then collaborated to develop these online conversations, which reflect our own unique interpretations and interactions with these original works of art.
We'd like to thank Patrick Rashleigh, Faculty Technology Liaison, Leah Niederstadt, Curator of the Permanent Collection, and Chris Hyde, Visual Resources Curator, for their assistance with this project.
We hope you enjoy exploring these works of art as much as we have.
Vasily Kandinsky, Composition (Reiterweg, Riding Path), 1913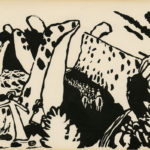 Gift of Mary L. Heuser.
This Kandinsky print was originally published in the artist's book Klänge (Sounds), 1912, a "musical album" combining woodcuts and poems. Benner Boswell '11 and Gordon Jones '13 explore Kandinsky's interest in the sound of images, and how this print reflects his goal to make visual expression simultaneously available to the various senses (synesthesia).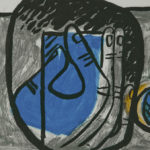 Le Corbusier, Eve no. 11 and the Snake no. 15 from the Unité Series, 1953
Gift of Dr. and Mrs. Mary L. Kozol (Ruth Massell, Class of 1925)
Betsy Cronin '11 and Alexandra Barie '13 describe Le Corbusier's combination of sensuous, organic forms with a rigid architectural structure, in two prints from his Unité series. They read individual elements as "rooms arranged in a building," and the prints together "as a kind of sketchbook" for Le Corbusier's architectural designs.

Käthe Kollwitz, Inspiration, 1905
Oona Laurie '13 describes how Kollwitz combined various printmaking techniques to create a vivid, textured sense of the rugged strength of her work's main subject: the revolutionary leader Black Anna, a protagonist in the 16th-century German Peasant's War.

Alexander Calder, Little Blue Oval, 1944
Bequest of Monawee Allen Richards, Class of 1934
Candace Shaw '13 and guest Taylor Stewart discuss how this tabletop stabile by Calder interacts with the space around it. Through seemingly simple means, Calder creates a complex, mobile sculpture with multiple perspectives that also suggest different moments in time.

Maurice de Vlaminck, Untitled (L'Hôtel), undated
Gift of Mary L. Heuser
Lauren Riedel '12 and Samantha Green '11 discuss how in this work by Vlaminck—a French Fauve celebrated for his expressive palette of bright colors—instead relies on the black tones of lithography to convey a mood of both alienation and voyeurism.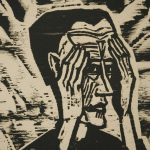 Erich Heckel, Man on a Plain (Mann in der Ebene) 1917, from the portfolio Eleven Woodcuts, 1912-1919
Gift of Mary Jane Goodloe in Memory of Mary Heuser
Kirstie Parkinson '13 and Leon Morabia '14 describe how Heckel, a member of the German Expressionist Brücke group, uses the woodblock technique to emphasize the separation of the depicted figure from his surrounding landscape, highlighting our impression of the subject's discomfort and claustrophobia.

Joan Miró, L'Envolée II (The Flight), 1963
On Loan Courtesy of Morgan Reese
Jesse O'Neil '14 and Tu Nguyen '14 explore how the Surrealist artist Miró combines abstract figures and bright colors, to create a sense of dynamic flight in this painting's celestial landscape.