Fall Faculty Recital to Remember Prof. Charles Fassett
Wheaton College Music Faculty Fall Recital
In memory of Professor Charles K. Fassett
Wednesday, September 14, 2016
7:30 pm, Cole Memorial Chapel
Wheaton's Music Faculty will remember long-time colleague and friend Charles K. Fassett in their fall recital.  Though Charlie retired in 1995, many of our faculty worked closely with him and will provide a few reminiscences during the recital.  As always, the concert will showcase the diverse talents of the Wheaton faculty.   Performers will include Ann Sears, Bill MacPherson, Guy Urban, Matthew Allen, Julie Searles, Joanne Mouradjian, Zarina Irkaeva, and Todd Brunel.  Featured composers will include Buxtehude, Marais, Schubert, and Brahms, and the concert will also include Brazilian jazz and more.
Obituary for Charles K. Fassett, from the Summer 2016 Wheaton Quarterly
Charles "Charlie" Fassett P'86, GP'13, who served as choral director and professor of music at Wheaton for more than three decades, passed away on March 24 in Scarborough, Maine.
Charlie taught music at Wheaton from 1963–1995. He directed two popular and thriving choral ensembles during his tenure: the Wheaton Glee Club (later renamed the Wheaton Chorale) and the Wheaton Choir, a freshman group that sang at weekly chapel services until the mid-1970s. The Glee Club took three international tours, to Venezuela and to Puerto Rico. Professor Fassett also directed Wheaton's Sesquicentennial Chorale on its U.S. tour (1985), to great acclaim.
In addition to teaching at Wheaton and at Payap University in Thailand, Professor Fassett was an author, arranger and performer. He co-authored Selected List of Choruses for Women's Voices (Smith College 1964); edited the vocal score of John Blow's "Sing, Sing Ye Muses" (Walton Music, 1979); and sang in the Camerata of the Museum of Fine Arts in Boston and The Cambridge Consort, whose 1972 recording "The World of Adam de la Halle" features Fassett as a tenor soloist.
Also, Fassett served as artistic director of the Providence Singers. He led that group for 21 years until his retirement in 1995, at which time the Singers established the Charles K. Fassett Fund, which supports talented young musicians wishing to continue their singing with the Providence Singers.
Carlton Russell, professor of music and college organist, emeritus, has fond memories of him. "As music department colleagues, Charlie and I worked well together in a relationship based on mutual respect for each other's strengths," Carlton said. "Since we both had homes in Maine, a friendship that had begun before our Wheaton period extended well beyond it, as we had many enjoyable times together over the past 20 years."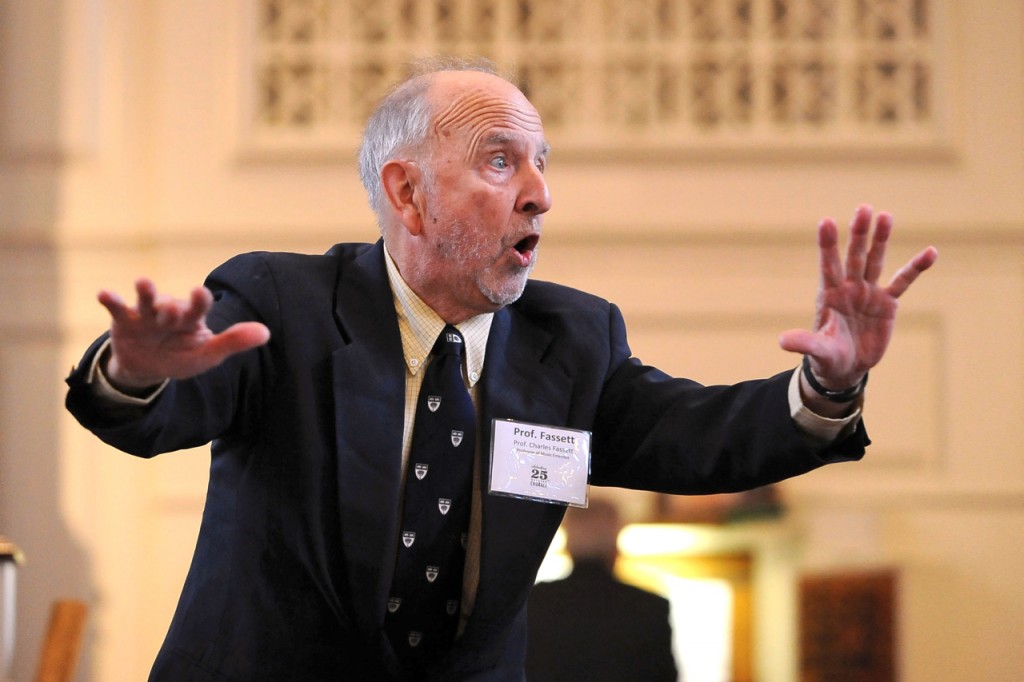 Charlie's last performance at Wheaton, on April 27, 2014, conducting the Wheaton Chorale and alumnae/i in a commemoration of the 25th birthday of the Wheaton Chorale, which marked Wheaton's transition to coeducation.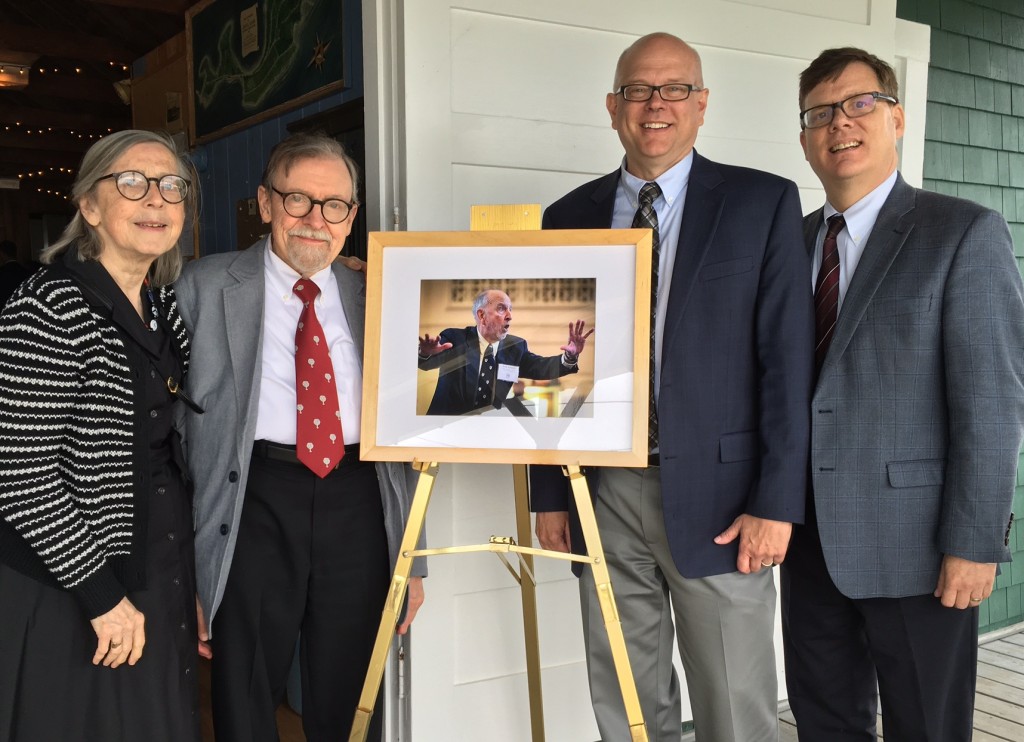 After the concert
Lorna Russell '64, Prof. Carlton Russell, Prof. Tim Harbold and Brad Swing in Capitol Island, Maine, following the June 11, 2016 Memorial Service for Charles Fassett in Boothbay Harbor, Maine.