Kelliann Bachand, GYN NP, at Norton Medical Center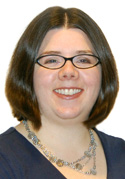 Kelliann Bachand, MSN, APRN, FNP-BC, is available by appointment at Norton Medical Center (508-285-9500) to provide routine GYN care.
Kelliann's 2017 first semester office hours are from 1 – 3:45 PM on the following Wednesdays:
September 20th
October 11th
October 25th
November 8th
November 29th
Routine care and services include annual GYN exams and Pap tests, birth control options, pregnancy testing, consultation & evaluation, and confidential STD/HIV screening and treatment.
To schedule an appointment with Kelliann, please contact Norton Medical Center at 508-286-5400/5401.
All charges will be submitted to your health insurance and deductibles and co-pays are applicable. Please check with your health insurance plan to confirm coverage.
Kelliann is a graduate of the Catholic University of America (BS) in Washington D.C. and the University of Cincinnati (FNP) in Cincinnati, OH. She currently practices at the Foxboro Center for Women's & Family Health in Foxboro, MA.
For more information or, if you would like information on other GYN health care options, please contact Cynthia Maricle, Assoc. Dir. Health Services, at maricle_cynthia@wheatoncollege.edu or 508-286-8210.
Please call Norton Medical Center at 508-285-9500 to schedule an appointment with Kelliann.
Kelliann Bachand,
MSN, APRN, FNP-BC