Summer Internship at the New London County Historical Society
My name is Eliza Browning and I am a member of the class of 2022 double majoring in English and art history. This summer, I served as a collections and curatorial intern for the New London County Historical Society in New London, CT. Although this experience was different than what I had originally envisioned for this summer, I was grateful to have an opportunity for an in-person internship experience amid the pandemic. Collections work is very hands-on, so I worked three days a week at the Shaw Mansion in New London. Another intern and I shared a socially distant office setting, and I often worked alone in the archives or in a room by myself.
In high school I originally planned to study American history and volunteered with local history organizations including the Tolland County Historical Society and Old Sturbridge Village in Massachusetts. This internship allowed me to combine my love for early New England history with the curatorial skills I've acquired as an art history major. I was especially excited about the extensive library, archives and collection at the Shaw Mansion, which is a historically remodeled 1756 home that served as the headquarters of Connecticut's naval office during the Revolutionary War. George Washington and his army stayed at the mansion, which is one of the few major buildings that survived the 1781 British invasion of New London.
In addition to helping with communications and social media presence, I worked on independent projects pertaining to local history. I accessioned and organized a large donation of several hundred objects relating to the Bulkeley School, a famous New London boys' high school that closed in 1951. I also located and processed paperwork relating to the erection of New London's century-old Christopher Columbus statue, which was recently removed from the center of town and relocated to a local art museum. My major project was designing, organizing and installing an exhibition on the 150th anniversary of the New London County Historical Society. From searching for objects in the archives to painting walls and designing object labels, wall text, and an exhibition plan, I gained valuable experience in museum studies and curation. I especially enjoyed discovering fascinating historical objects within the collection, including whaling harpoons, pressed algae samples, and handwritten receipts for butler services at Yale.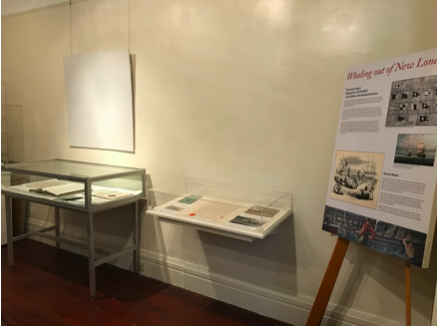 An unexpected effect of this internship was that it inspired me to grapple more deeply with the complicated history of the area where I'd grown up. New London chooses to highlight its significance as a whaling port and its role in the American Revolution, but some troubling aspects of its racial history came to light this summer. I learned about the slaveholding practices of the Shaw Mansion's first owner, race riots during the summer of 1919, the history of the Columbus statue, and the city's role as a melting pot for newly arrived immigrants and in the Amistad mutiny. This history is underexplored in official state narratives, and I hope to use my curatorial skills to focus on these important aspects of historical preservation.