My Internship at ConfiKids
This summer was definitely an unforeseen and unusual experience for everyone. COVID-19 caused my initial internship opportunity to be cancelled which put me into a panic and caused a lot of frustration. Although I was let down and aggravated, I was not going to let this stop me from participating in an internship or missing out on the unreal opportunity of a funded experience offered by Wheaton. I began to search and reach out to as many people as I could, hoping someone was still accepting an intern during this crazy time. Email after email, all denying an intern due to COVID-19. Finally, I received a call from a very animated and enthusiastic women telling me how honored she would be to accept me as an intern this summer. She explained that COVID-19 would obviously affect my experience but she was going to do everything that she could to help me consume as much information and knowledge from this experience as possible.
Being a psychology major and an education minor, I have always wanted to work with kids. I am always asked, "So you want to be a teacher?". The answer is always no. I am currently a senior, but I know that I want to work with adolescents to better their lives in any way that I can but mainly in the field of psychology and child psychopathology. The women that called me was named Rachel. She is the founder and executive director of ConfiKids. ConfiKids is a nonprofit organization that aims to address the financial limitations of children by supporting their enrollment in enrichment, recreational, sports, and art programs. Their hope is to allow children to participate in programs to engage them and teach them new talents or to help them advance their abilities to provide new opportunities, friendships, and most importantly to build their self-confidence. The goal and message of ConfiKids was so inspiring and admirable. I was eager and honored to be involved.
ConfiKids is involved in many different types of fundraisers. This year, due to COVID-19, fundraising had to be done virtually. Rather than participating in the Rodman Ride for Kids (an annual bike race aimed to raise funds for youth-focused social-service organizations supporting positive youth development) they were forced to improvise and change their normal fundraising to a "virtual ride". I was given the responsibility of encouraging, supporting, and mentoring the youth team riders. I organized and tracked their progress with both the miles they were riding as well as their fundraising. The youth team was participating in a contest, the rules and challenges that I worked on are on the flier below.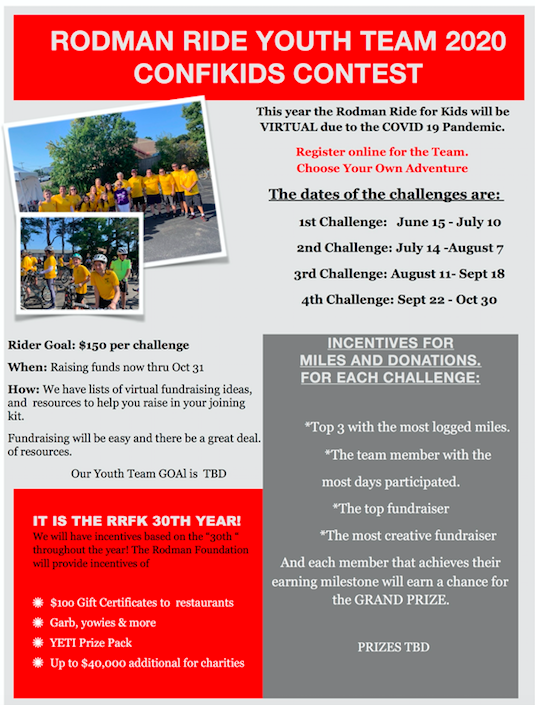 I was so proud to watch these children dedicate their summer to raising money for an amazing cause. My team has collectively raised over $13,000! All their hard work and effort this summer is going to make many children very happy!