Interning Remotely at Seaside Sustainability
Seaside Sustainability's internship program was a perfect fit for me. As a non-profit organization centered around educating the north shore community on environmental sustainability, it relied on interns and volunteers to manage all of its operations. This meant its internship program offered a variety of areas to explore, plus a local office in beautiful Gloucester MA and a mission I was particularly passionate about. My summer 2020 experience was bound to be a successful one. That was, until COVID-19 shook everything up.
Everything was forced to go remote, and my entire experience shifted from the ideal opportunity to a make-the-most-out-of-it situation. Despite working and communicating solely through a computer screen, I picked up a variety of skills over this past summer — although they were not exactly the types of tips I had been anticipating.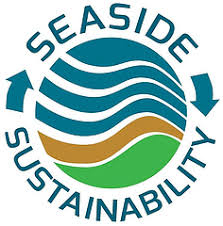 To complement either my Computer Science or Film and New Media degree, I had planned on spending my time at Seaside developing software to track plastic pollution data or editing videos on recycling initiatives. Instead, my knack for problem solving landed me the role of Operations team manager on the marketing team. There was no need for C++ programs or advanced algorithms when managing the backend processes of running a social media campaign. I spent my shifts sitting at my bedroom desk researching potential tools or writing up processes for creating Instagram promotions. Relating to my areas of study, I didn't gain much concrete knowledge, but instead got something even more valuable. 
I learned life skills during my internship, ones that no lesson or textbook can teach you – only to be gained from hands-on experience. I learned how to be confident in a professional environment, seek out projects that interest me, and advocate for myself. Discovering that my ideas and opinions had value after being insecure for so long was monumental, and will be key to achieving success through the course of my life and professional path.
Unlike coding languages and video editing tips, I can apply this newfound confidence to my work regardless of the field I plan to pursue after Wheaton. Once I graduate and enter the real world in pursuit of a career, I know I will be well-prepared, and I have this summer experience to thank for that.