Exploring Community and Conservation
My name is Sydney Rainone, and I am a senior Biology and Environmental Studies student here at Wheaton college. This summer I was fortunate enough to have an in-person internship with the Canton Conservation Commission, thanks to the funding provided by the Wheaton Edge grant. My tasks at this internship included taking stock of biodiversity on protected lands, posting informative facebook pictures and descriptions about my findings, organizing property deeds, and accompanying my supervising conservation agent on environmental compliance checkups.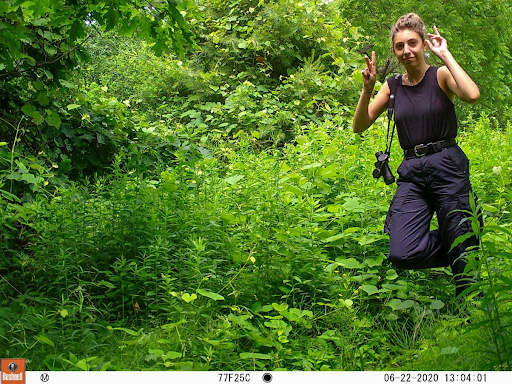 This was an exciting opportunity, since I was the first person to survey the biodiversity and compile species lists in this town. It was also a very peaceful internship for me, since I was able to spend a lot of time alone in the woods, birdwatching or consulting my field guides. One of my favorite duties was setting up camera traps in areas where I thought there would be interesting fauna, because it was always so rewarding when I came back to check and there were a few great pictures on them. I posted my favorite camera trap shots on the Commission's facebook page in a series I named "Camera Trap Tuesday". I have attached a few of these highlights, including an action shot of a Red-Shouldered Hawk in flight, a coyote slinking by, a shy grey fox, and a picture of myself coming back to grab the trap.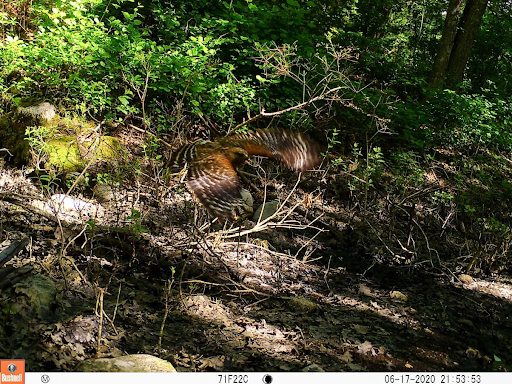 This was also a productive internship for me, since I have recently been exploring how communities can be involved in conservation, and the boundary between science and local people. I really enjoyed talking to Canton residents about their town and protected areas, as well as birdwatchers and hikers I encountered in the woods. I loved seeing the municipal and policy side of conservation, since my studies have mainly been rooted in science so far. I can definitely see myself working in a similar setting later in my life, since it combines conservation with making real tangible change for communities.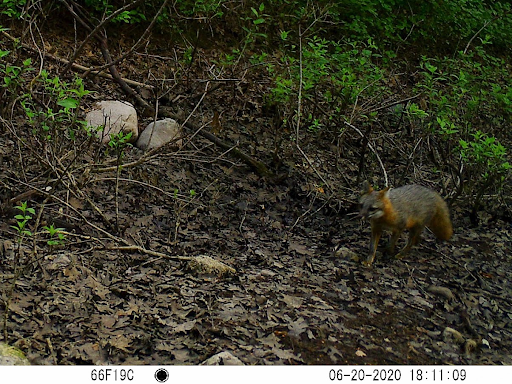 The contributions I made that I am most proud of, are my additions to the land management plan of the Commission's main park in Canton. I used my observations from throughout the summer to propose the best native plants to include in a proposed community pollinator garden, and I proposed establishing nest boxes for Purple Martins to hopefully engage Canton residents with avian conservation.