Davis International Fellows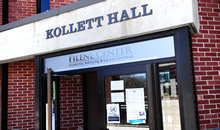 This summer, a chemistry major from Boston will intern at a dental hospital in Kathmandu while a double major in European History and Russian Studies will be developing an electronic catalog of books at the State Historical Museum in Moscow.
Juniors Jessica Restrepo and Alexander Herbert are among nine students who will be working and learning abroad this summer through the support of the Davis International Fellows Program, which is administered by Career Services at the Filene Center.
The Davis International Fellows Program, established in 1994 through an endowed gift from the Shelby Cullom Davis Foundation, is designed to help students undertake educationally meaningful international experiences that link to academic or career interests.
Recipients receive a $5,000 stipend to support experiences of 6-8 weeks during the summer break. The award may be used to cover travel and living expenses as well as any preparatory costs, such as immunizations, passport and visa fees.
This year's Davis International Fellows are:
Chelsea Ettinger '14, a biology major from San Francisco, Calif., will participate in a clinical internship through Child Family Health International, a health care service-learning program in Quito, Ecuador.
Benjamin Fagan '13, an international relations major from Westport, Conn., will work as a writer and editorial assistant for the English-language magazine, Bolivian Express, which is based in La Paz, Bolivia.
Alexander Herbert '13, a history & Russian studies major from Attleboro, Mass., will assist in the cataloging of books in the collection of the State Historical Museum in Moscow, Russia.
Nanako Ota '13, an anthropology major from Tokyo, will work as an intern for the Gross National Happiness Commission in Thimpu, Bhutan.
Lindsay Powell '13, a sociology major from Brooklyn, N.Y., will write reports on proceedings of the South African Parliament for the Parliamentary Monitoring Group, a non-profit, governmental organization in Capetown, South Africa.
Jessica Restrepo '13, a chemistry major from Boston, Mass., will intern with the Kantipur Dental Hospital, a teaching hospital and research center located in Kathmandu, Nepal.
Juan Riano '14, a major in anthropology and in international relations from Bogota, Colombia, will help to implement a program of public health and environmental workshops in Andean agricultural communities with the Center for Social Well Being, which is based in Lima, Peru.
Kat Ullrich '14, an anthropology major and chemistry minor from Simi Valley, Calif., will volunteer with health care workers in Guatemala.
Michelle Van Akin '13, a major in anthropology and international relations, will write grant proposals for Orphelins Sida International, a Paris-based non-profit organization that assists African children who have been orphaned due to the AIDS epidemic.
Career Services
Hours: 8:30 am–4:30 pm Monday through Friday
Location: Kollett Hall (next to Science Center)
Phone: (508) 286-8215
Fax: (508) 286-8261
Email us