A Look to the Past – Building the New Scholarship of Women's Educational History
Linda Eisenmann, professor of education and history, recently published "Building the New Scholarship of Women's Educational History, 1965-1985," in Women's Higher Education in the United States: New Historical Perspectives, a text edited by Margaret A. Nash.
Her chapter examines the beginnings of the new scholarship on the history of women in higher education with a particular eye on how several key scholars, between 1965 and 1985, built an initial analytical framework for the field, and how some of those scholars later reflected on the challenges of doing so.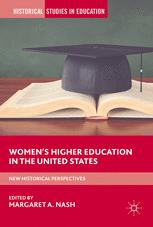 The chapter examines four themes that held particular resonance for the era: the origins and impact of a "woman's sphere"; teaching as a "woman's profession"; women's use of collegiate education; and statistical understandings of women's careers.
Eisenmann's motivation for this work came from her position an educational historian best known for work on the history of women in higher education.
She explained that "perhaps because I'm a first-generation college student myself – and one whose life was changed dramatically by college and graduate school opportunities – I have long been interested in questions surrounding women's access to and use of education, the barriers they faced, the choices they made, and the supports which they and their advocates created. I've studied many eras of educational history, but in recent years have worked primarily on the post-World War II period, publishing in 2007 a book called Higher Education for Women in Postwar America, 1945-1965, based on my belief that the 1960s feminist movement had roots in that seemingly quiet earlier period.  And since then, I've continued to think about how subsequent developments relate to the feminism of that time."
Three years ago, when writing about American women for a historical volume examining women's higher education internationally, Eisenmann uncovered several interest-piquing memoirs and reflections written by women who had become scholars and teachers during Second Wave feminism.
This writing and discovery laid the groundwork for questions in this newest piece: how did the feminist movement impact the development of historical scholarship in the decades after 1965, and how did female scholars who were personally experiencing the growth of feminism think about that impact?
"Earlier, we tended to think of 'women' as one category, but since the 1980s, our scholarship has expanded to explore women of different racial, ethnic, religious, geographic, socioeconomic backgrounds, and gender identifications. Nash wanted to both mark the current scholarship and explore the very notion of 'women' in higher education." said Eisenmann.
Eisenmann has two book projects in the works, both of which extend her interest in synthesizing and analyzing existing scholarship. The first continues her focus on women in higher education, with a contemporary perspective. The second looks at higher education in the mid-1960s.