Finding Mrs. Newell: An Ancient Legacy for the Liberal Arts
In October 1966, Wheaton received notification of the largest gift of artwork the college has ever received: a bequest of antiquities from Adra Marshall Newell. Until recently, however, little was known about Mrs. Newell, who had only a minor connection to Wheaton. She was usually identified as "just a wife" to her husband Edward T. Newell, who led the American Numismatic Society (ANS) until his death in 1941. Although Mrs. Newell served as her husband's executor and honorary curator of his collection until her death, ANS officials deemed the bulk of her papers irrelevant and destroyed them, which helps explain why no photograph of her was known to exist.
Yet, Newell's legacy at Wheaton is unquestionable. Her gift prompted formation of what is now the Permanent Collection; and when ancient glass from the bequest was deaccessioned and sold at auction in 1978, the proceeds formed an endowment that has since been used to acquire nearly a dozen objects including the 15th-century DuBourg Book of Hours. Hundreds of students have used Newell's donation for assignments ranging from semester-long research projects to student-curated exhibitions.
This talk examines the Newell bequest as an example of ethical deaccessioning from an academic collection and considers the legacy a single woman's generosity can make to the liberal arts.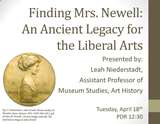 Presented by Leah Niederstadt, Assistant Professor of Museum Studies and Curator of the Permanent Collection
Tuesday, April 18th
12:30 p.m.
President's Dining Room