Do experiential learning activities make a difference? Results of a real-world trial in the college classroom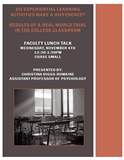 Christina Riggs-Romaine, Assistant Professor of Psychology, will present findings from a controlled evaluation of the effects of experiential learning activities in the teaching of Psychology and Law. Multiple sections of the course, taught with and without experiential activities (at Wheaton College and 3 other campuses) will be compared. This talk will explore the effects of the activities on student learning, engagement, and feedback.
Please join us for the next Faculty Lunch talk on Wednesday, November 4, 2015 from 12:30 – 1:30 pm in Chase Small.