Democracy's Disappointments: lessons from John Dewey and Michel Foucault on WWI and the Iranian Revolution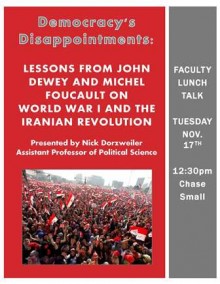 From Karl Marx (Paris Commune of 1871) to George Orwell (Spanish Civil War of 1936-1939) to Jean-Paul Sartre (French protests of May 1968), Western intellectuals have often spoken of collective political movements using the language of miracles and utopias. More often than not, however, these intellectuals have been met with disappointment when their high hopes failed to materialize in practice. In this presentation, I consider two of the more misguided instances of such lofty democratic rhetoric: John Dewey's support for American involvement in World War I and Michel Foucault's celebration of the Iranian Revolution. These two thinkers' experiences teach us, I argue, that while we can remain alive to the potential of collective political movements, so too must we find a way to acknowledge the strains and fissures that invariably attends them.
Nick Dorzweiler, Assistant Professor of Political Science is scheduled to present his talk on Tuesday, November 17, 2016 from 12:30 – 1:30 pm in Chase Small.  All are welcome to attend.