Community Conversations: What We Know About State Violence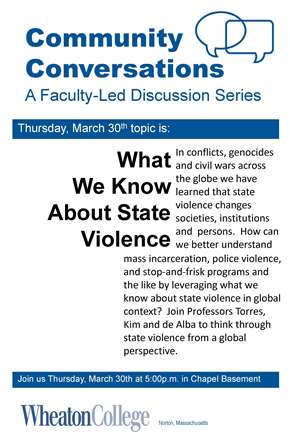 In conflicts, genocides and civil wars across the globe we have learned that state violence changes societies, institutions and persons. How can we better understand mass incarceration, police violence, and stop-and-frisk programs and the like by leveraging what we know about state violence in global context? Join Professors Torres, Kim and de Alba to think through state violence from a global perspective.
Thursday, March 30th
5:00 p.m.
Chapel Basement
All are welcome and encouraged to attend. Please contact the Provost's Office for additional information about the Community Conversation series.