Community Conversations: 2016 Presidential Race Election Debrief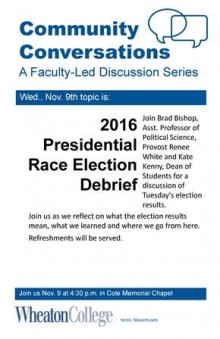 Join Brad Bishop, Asst. Professor of Political Science, Provost Renée White and Kate Kenny, Dean of Students and members of the Wheaton community for a discussion of Tuesday's election results; and to reflect on what the election results mean, what we learned and where we go from here.
All are welcome and encouraged to attend.
Date: November 9, 2016
Time: 4:30 pm
Location: Cole Memorial Chapel
Refreshments will be served.
Dennis Hanno, president
Renée White, provost
Gene Begin, vice president of marketing and communications
Merritt Crowley, vice president for college advancement
Brian Douglas, executive vice president of finance and administration
Grant Gosselin, vice president, dean of admission and student aid
Michael Graca, assistant vice president of communications
Kate Kenny, vice president for student affairs and dean of students
Kristen Turcotte, assistant to the president