"You Can't Belong Anywhere Else"
Scott Gelber, associate professor of education, recently published his work, "'You Can't Belong Anywhere Else': Postsecondary Aspirations of Rural Students in the Postwar Era,"  in the November 2017 issue of the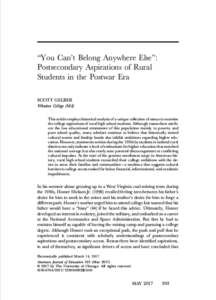 American Journal of Education.
Upon finishing his last book, which focused on college access litigation from 1860-1960, Professor Gelber realized that he wanted to focus efforts on a project which involve more direct voices from students.
"I was fortunate to stumble across a unique manuscript collection that contained hundreds of essays by high school students in which they shared their experiences with formal education and their post-graduation plans in the rural south in the 1950s and 1960s" said Gelber. "The collection provided an unusual opportunity to study the aspirations of students who did not plan to attend college alongside those who did." He noted that most historical studies of college access are based on sources that only shed light on the perspectives of college-bound students.
This most recent publication addresses a gap in current studies. While scholars and general readers alike often attribute the low educational attainment of rural populations mainly to poverty or poor schooling, or even historically cultural norms, this was not necessarily the case. Professor Gelber, with the help of former Wheaton student Haley Barak, found that during the 1950s students in isolated rural areas not only had a level of enthusiasm for higher education that matched a national average, but also rarely were discouraged by parents and families or found themselves in conflict with cultural impulses.
The duo observed that the influence was internal, where rural high school students reconciled their college ambitions with the desire to serve their families and communities. This suggests that cultural barriers to college access ranked far below financial, informational, and academic impediments.
Currently Professor Gelber is working on a history of evaluation in American higher education.  It is a book-length project, tentatively titled Grading the College.