New Vice President for Student Affairs and Dean of Students
Dear Wheaton Community,
I am pleased to share that on July 1 Wheaton will welcome Dr. Darnell T. Parker as its next Vice President for Student Affairs and Dean of Students.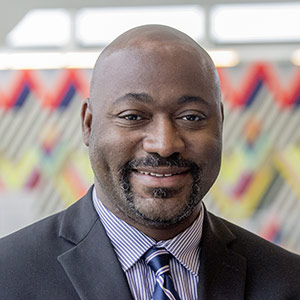 Dr. Parker brings considerable expertise in all aspects of student affairs, diversity and equity, and Title IX compliance within higher education. He joins Wheaton from Case Western Reserve University, where he has served most recently as the Senior Associate Vice President for Equity after four years in the division of Student Affairs. In this newly created office and role, he has overseen the university's efforts and initiatives to address and prevent discrimination and harassment and sustaining and effecting change.
Students, faculty and staff who participated in Wheaton's search process noted Dr. Parker's focus on active listening and building trust to forge collaborative relationships with all stakeholders to achieve institutional goals. His past experiences and accomplishments showcase his passion and ability to connect curricular and co-curricular areas and initiatives, which align well with the personal, interdisciplinary, and connected nature of the Wheaton experience and the Compass curriculum.
Dr. Parker's passion for the liberal arts has been a thread throughout his career. His dissertation explored diversity at liberal arts colleges, the impact of diversity on student learning in the liberal arts, and methods to improve campus climate on a college campus by creating campus dialogue and professional development opportunities. During his time at Washington College prior to Case Western Reserve, he developed and launched the Multicultural Affairs Office after measuring diversity initiatives at regional liberal arts colleges throughout the Mid-Atlantic. Darnell spent nine years at Washington working in residence life, multicultural affairs, student activities, and compliance roles within Student Affairs, including partnering on creating the Office of Wellness and Prevention Education.
Dr. Parker also served in residence life and multicultural affairs roles at Monmouth University and Syracuse University, respectively. During his time in higher education, he has taught courses in race and ethnic relations, race and gender, and communities of practice. His professional involvements include serving on the Maryland Higher Education Commission, the Washington Regional Taskforce Against Campus Prejudice, and as a peer reviewer for the Higher Learning Commission (HLC). Dr. Parker holds a doctor of education degree from Widener University and both a bachelor's and master's degree in social work from Syracuse University.
This search for a permanent Vice President for Student Affairs was temporarily put on hold by the pandemic, yet the nationwide search yielded an impressive and long list of highly qualified candidates. My thanks to all of the search committee members, but especially co-chairs Prof. Leah Niederstadt and Provost Renée White, for their extraordinary work in screening the candidates and introducing them to this opportunity and to Wheaton College.
During the search, Wheaton has benefited from the strong leadership and expertise of Interim Vice President for Student Affairs and Dean of Students Zack Irish. Throughout, he has served as co-chair of the Return to Campus Task Force while fulfilling the normal responsibilities of the Vice President and Dean of Students role. After Dr. Parker joins us, Dean Zack will transition into the role of Associate Vice President for Student Affairs. We owe Dean Zack a huge debt of gratitude for all he has done for Wheaton over the last several months, especially during these extraordinary times.
Please join me in warmly welcoming Dr. Parker to the Wheaton community.
Dennis Hanno
President
Wheaton College