Institutional next steps for equity and belonging
Dear Wheaton Community,
Today, the college takes a bold step towards justice. Effective today, March 15, 2021, Dean Shaya Gregory Poku will move into Wheaton's inaugural position of Associate Vice President for Institutional Equity and Belonging. This role is a fulfillment of one of Wheaton's 10 Action Steps Towards Racial Justice to create a senior-level position focused on inclusion and equity.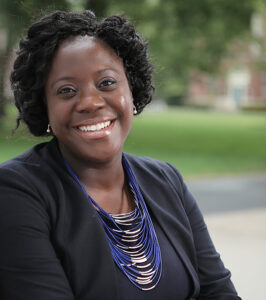 As Associate Vice President, Shaya will report directly to the president and be a member of the President's Council. She will oversee Wheaton's new Office for Institutional Equity and Belonging that will be a linchpin for increasing accountability, transparency, and partnerships.
Wheaton aspires to be the leading liberal arts institution in preparing students to create innovative solutions to big challenges—and to act on them. Among the most persistent challenges in our world is structural inequality and the harm it promulgates: colonialism, ableism, gender inequality, anti-Semitism, classism, transphobia, racism, and ageism to name a few of its many manifestations.
Like all institutions, Wheaton perpetuates these norms, and in doing so, interrupts learning, causes trauma, and undermines our commitment to providing a transformational liberal arts education. With the development of this office and position, Wheaton is investing in what we euphemistically call "diversity, equity, and inclusion," so that justice and empowerment become central to how Wheaton operates.
We have undertaken a uniquely Wheaton process to get us to this moment.
We created a Strategic Plan.
DEAL (Diversity, Equity, and Access Leadership) has spearheaded numerous meaningful steps we've taken to build out infrastructure, tools, and resources we need to propel ourselves further. Shaya will continue to work shoulder-to-shoulder with DEAL and our entire Wheaton community to expedite and deepen this work as never before.
The title of Associate Vice President for Institutional Equity and Belonging was an intentional one. Institutional connotes the intended scale and scope, while equity and belonging are grounded in acknowledging systemic inequities that must be dismantled; and the need to adopt universal design to build new ways of being in community with one another.
What is true across centuries at Wheaton is the power of the tight-knit Wheaton community. It is the trademark, the goalpost, and the ethos of our college all in one. At the end of the day, this new role and office are about making sure that we create a Wheaton community that we can all be proud to be a part of and succeed in–an abundant life.
A new director will be retained to oversee the Center for Religious and Spiritual Life, and Center for Social Justice and Community Impact (the Base) to make sure that this vital part of the Wheaton ecosystem continues to thrive. Until a new director is named, Shaya will continue to provide support and leadership to this department.
Be on the lookout for emails announcing opportunities for you to share your hopes and aspirations for what we'll all do together. If you have any immediate suggestions or thoughts you'd like to share, please email equityandbelonging@wheatoncollege.edu.
If you have not read it, we would encourage you to peruse Wheaton's equity mission and vision statement. It paints a vivid picture of where we're headed together.
Most sincerely,
Dennis Hanno, President
Shaya Gregory Poku, Associate Vice President for Institutional Equity and Belonging