Gaining Maturity and a World-View Through Studying Abroad
Wheaton College has a long history of successfully sending its students to study abroad. We have always considered study abroad to be an integral part of a well-rounded liberal arts education. Regarded as a crucial learning experience, we make it available to all students as a method essential to prepare them for effective participation in the wider world.
U.S. higher education is increasingly focused on preparing U.S. students for the working world. Studies have shown that studying abroad helps students develop the skills needed to succeed in today's multicultural global marketplace.
Just last month, the Institute for International Education together with the U.S. State Department's Bureau of Educational and Cultural Affairs, released the latest data on U.S. students studying abroad in the 2017 Open Doors® Report, the gold standard by which higher education institutions judge their progress. Open Doors reported that 325,339 American students received academic credit for study abroad in 2015-16, an increase of 3.8 percent from the previous year. Study abroad by American students has more than tripled in the past two decades. Further, the population of U.S. students studying abroad continues to diversify, with greater inclusion of students from underrepresented racial and ethnic backgrounds, STEM students and students with high financial need.
Respectively, Wheaton's numbers are strong. Forty-three percent of our Class of 2017 had some kind of international experience during their undergraduate years; twenty-five percent of all 2016-17 students participated in an internship or independent research experience while studying abroad, and in 2015-16, forty-three students used Wheaton stipends to volunteer or intern abroad (in more than 25 locations). Additionally, during the 2015-16 academic year, 23 percent of Wheaton students studying abroad were male (which believe it or not is a large percentage), 32 percent identified as non-white, and 29 percent were STEM majors.
Wheaton remains focused on providing robust study abroad resources. Its Center for Global Education connects students to more than 90 study abroad programs, plus work and internship opportunities, in more than 40 locations around the world. These programs have been carefully vetted for academic rigor and student support. They are programs to which we have sent students for many years with positive feedback. They are in locations where Wheaton faculty or staff have professional contacts and in many cases have visited. Each of the study abroad programs on our approved list offers high-quality courses in a variety of fields, including some specialized curricula in visual arts, environmental sciences, religion, education and the languages. Study abroad participants often have the opportunity to study with international experts, take courses not available to them at Wheaton, pursue more independent intellectual endeavors, and/or gain professional work experience.
Among these programs is a unique semester abroad program in the Kingdom of Bhutan, offered every fall. Wheaton in Bhutan is a partnership with Bhutan's Royal Thimphu College, the only private liberal arts college in the Himalayan kingdom. While there, students have the opportunity to:
– Witness a Buddhist monarchy evolving into a modern democracy
– Discover the nation's strategies for preserving its extraordinary natural resources
– Work with Bhutanese NGOs, local small business, or government agencies
All participants enjoy a highly personalized, intimate educational experience led by a Wheaton professor who is in residence there for the semester.
Studying abroad provides students the opportunity to fully engage with another culture exposing them to different perspectives and encouraging self-reflection. Students tend to return from their experiences abroad more mature, more independent, more confident, and, I am tempted to say, changed. However, as Khadeedja Muheto '18, who recently studied abroad, reflected on the transformational nature of the experience. "We don't change who we are, we just become better versions of ourselves."
We want students to experience firsthand the challenges of communication across languages, cultures and opinions, and we want them to learn the skills necessary to create relationships and work together with people different from themselves. We understand the value of gaining international perspective, and we pride ourselves on exposing students to multiple views of critical issues facing the world today, and finding connections where they may not initially be evident.
Students planning to study abroad for the Fall 2018 semester must complete their applications by March 1. Please encourage your students to attend an information session, "like" us on Facebook, follow us on Instagram, visit our website and meet with an advisor in the Center for Global Education to get their journey started. While the process is, in-and-of-itself, a journey of self-discovery we are here to help students understand their options, ask the right questions, navigate the application process, locate resources (e.g. scholarships,) and help them prepare for the challenges and rewards of living and studying abroad.
Because it is one of the most common concerns of parents, let me say in closing that a semester abroad should not cost you any more than a semester at Wheaton. For most programs you will continue to pay your Wheaton bill as you have in past years, and Wheaton will pay the program. Wheaton will also pay for your student's round trip airfare! (Financial aid you receive for a semester at Wheaton is still granted for a semester abroad.)
Please consult our website for more detailed information and our list of approved programs.
Where Wheaton students studied abroad in 2016–17
• Australia • Belize • Bhutan • Brazil • Cameroon • China • Costa Rica • Czech Republic • Denmark • France • Germany • Ghana • Greece • Hungary • India • Ireland • Italy • Japan • Jordan • Morocco • New Zealand • Russia • Senegal • South Africa • Spain • Sweden • Tanzania • Thailand • UK • Vietnam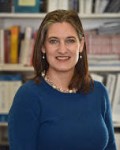 Dean Gretchen Young
Center for Global Education