Experiential learning is part of the (strategic) plan
The start of summer marks the beginning of an important part of students' Wheaton education.
Each year, as the spring semester comes to a close and faculty members submit the final grades for their classes, students are heading off to internship and research experiences across the country and around the globe—from Boston and Seattle to London and Cape Town. Most important, they are traveling to these experiences with funding from the college, stipends that make it possible for students to pursue learning rather than earning.
The Wheaton Edge guarantees that every student, starting with the members of the Class of 2019 (who will be juniors in the fall), will receive funding to pursue an internship or learning experience.
This promise, which helps to ensure that every Wheaton student will have the benefit of testing out their ideas and interests in the real world, is a vital part of the college's strategic plan, Wheaton Means Impact: Growing Our Influence on the World. The plan outlines a set of initiatives that the college is launching to enhance the quality of the education and experience that we offer to your student—from campus renovations and faculty development efforts to the design of new co-curricular programs that enhance classroom learning.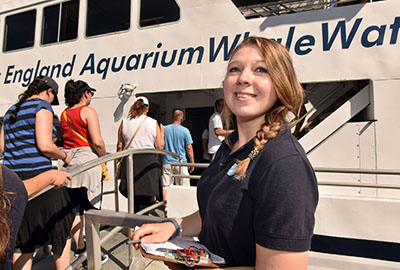 Internships, research, public service and other forms of experiential learning enable students to develop the kinds of skills that will help them succeed after graduation. What makes Wheaton's offerings in this area so unique and powerful for students—beyond the funding support that is available through the Wheaton Edge—is the flexibility and breadth of what we offer.
We give students the opportunity to create their own real-world learning through a growing roster of programs that help young adults build and apply their entrepreneurial skills—whether it be for starting a business or launching a public service or social innovation project. We are now in our second year of social entrepreneurship programs, including a month-long summer "boot camp" that offers students the skills and opportunity to develop an idea into an organization. In partnership with Mass Challenge, the world's largest start-up accelerator, we also offer a program where Wheaton students work with emerging businesses, getting an inside look at successful start-ups ventures and access to expert entrepreneurs.
The college's makerspaces are another venue for students to "get their hands dirty." These special labs contain an array of tools for turning ideas into reality—3D printers, an automatic loom, a digital laser cutter, eye-tracking software, virtual reality equipment and myriad materials and equipment. Best of all, these spaces are available to students for personal interests and recreational pursuits as well as class projects. Faculty members in the arts, sciences and humanities are all deeply engaged in helping students use these spaces, operating as both advisors and partners.
Wheaton is committed to learning by doing, as a powerful complement to liberal arts study. And in keeping with a college that emphasizes individual attention and personal experience, we offer a nearly endless variety of ways in which students can pursue their interests outside of the classroom. Career Services in the Filene Center provides a central starting place for students to identify and create those experiences, and staff and faculty across the campus are involved in this effort as well. It's an essential part of a Wheaton education, and we intend to keep strengthening it through initiatives that flow from our strategic plan.
— Dennis Hanno, President