100 Years Ago: U.S. Enters World War I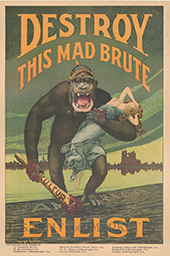 On April 6, 1917, Congress followed President Woodrow Wilson's request and declared war on Germany, marking the official entry of the United States into the First World War, alongside the United Kingdom, France, and Russia.
To commemorate this event, Wallace Library and the students in Professor Anni Cecil's U.S. Military History class put together a book and poster exhibit on World War I and the American experience. Stop by in the library lobby in front of WEC to see, browse, and learn.
In addition to the exhibit at the library, check out the great online exhibition put together by the Library of Congress.