Meet our Newest Staff Member!
Introducing: Kate Henke, Metadata and Acquisitions Librarian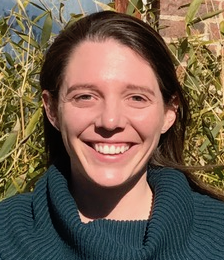 Where are you from? I am from Rhinebeck, NY, which is a small town in the Hudson Valley, about 90 miles north of New York City.
What do you do at the library? I am the Metadata and Acquisitions Librarian. I am in charge of purchasing requests from faculty and staff, cataloging and maintaining our records, and building the library collection.
Why did you become a librarian? I developed a love of art history as an undergraduate at Hobart and William Smith Colleges. I went to Simmons to get my masters in Library and Information Science with the intention of pursuing a career as an archivist at a museum. It wasn't until my last semester at Simmons that I became interested in metadata and the potential it possesses for unlocking data and making it available for use.
So, what the heck is "metadata"? Metadata is data that describes data. For example, if you were looking at a book, the metadata would be everything that describes the book, such as the title, author, publisher, subject headings, description, etc. Libraries use metadata to identify, organize and locate materials in their collections. It is my job to create metadata that correctly classifies and describes an object so that our users can easily find it in our catalog.
What is your favorite thing about Wheaton so far? I have found Wheaton to be a warm, welcoming place with a very strong sense of community.
What else should we know about you? I currently live in Boston, MA and love to read, travel and go on adventures, both local and abroad.
You can reach Kate at henke_kathleen@wheatoncollege.edu or x3610.