Welcome back to campus! The Wallace Library staff misses you – so we launched a chat service to make it even easier to get in touch! We really enjoy working with the Wheaton community, and, remember, your questions are not an interruption, because this is our favorite part of our jobs.
Given that many students, faculty, and staff are remote this academic year, the Wallace Library launched the new Chat with a Librarian service. Chat is available every weekday, from 9:30 am until 4:30 pm. We also offer Sunday hours, from 11 am to 5 pm. You can ask all kinds of questions on chat about research, library resources, or for help with your assignments. In Chat, you can identify yourself or choose to remain (appropriately) anonymous. Feel free to just test out the chat by saying hi to one of your librarians today!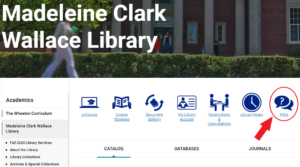 To access the service, find the "FAQs" link on our website or visit http://chat.wallacelibrary.org/.
If you have a question outside of our availability, you can submit a question anyway. A Librarian will get in touch with you on the next business day.
We're really excited to provide this service to the Wheaton community, and we hope to chat with you soon!