From Wheaton to the World-Wide Leader in Sports
Four-time Emmy award-winning producer for ESPN gave Wheaton students an opportunity to see what life is like in sports media from the other side of the lens.
Of all the stories that Andrea Pelkey, Class of 2002, shared with students in a wide-ranging conversation on her career highlights at ESPN, perhaps the one that revealed the secret to her success occurred during her high school days in Palmyra, Maine. She played on the girls' varsity basketball team at Nokomis Regional High School, and after her team played she would "do color commentary of the boys varsity games for the local cable channel," she said.
That same work ethic of hers was employed at Wheaton, too, where she played on the varsity field hockey team and worked in the college's Sports Information Department, writing the wire copy on her team's games and filing the stories with the Boston Globe and Herald. She told a group of more than eighty students and student-athletes gathered in the Holman Room in Mary Lyon Hall that being a team player helped her make big opportunities for herself. "You have to have a willingness to do whatever it takes," she said. "Work long hours—nights, weekends, and holidays. Take on weird assignments. For a 6:00 p.m. live report from Gillette Stadium, I would get there at 4:30 in the morning. Not everybody wants to do that. I think being on a team and doing what it takes to win a game—has helped me along the way."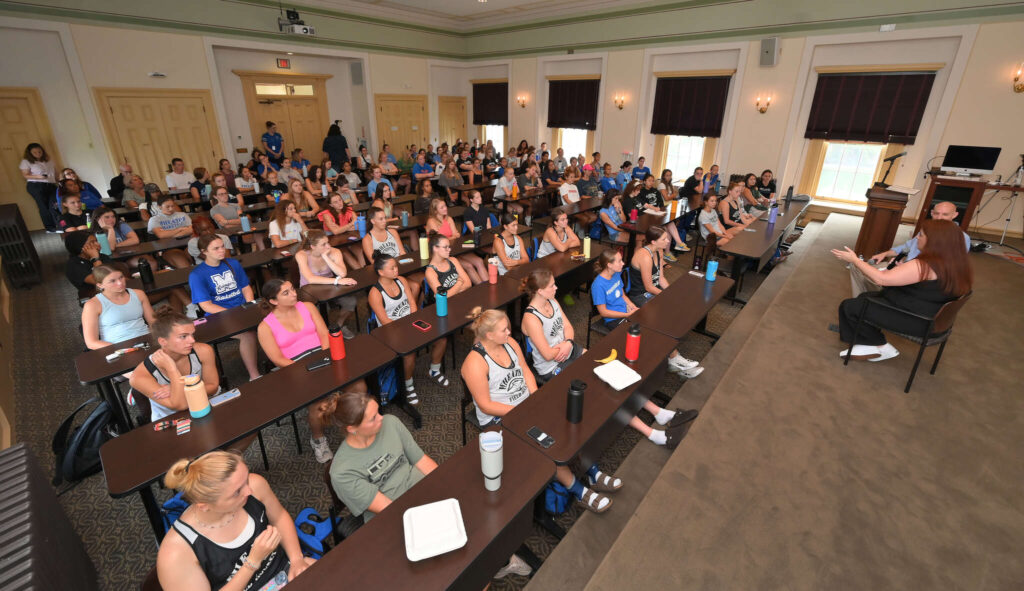 Andrea began her ESPN career on SportsCenter and College GameDay. She quickly excelled in covering breaking news in the field. She spent fourteen years on the front-lines, covering some of the biggest news and features in the NFL, NBA, the Women's Final Four, and NASCAR. She put herself through a crash course to learn everything she needed to know about NASCAR drivers, their cars, and their sponsors, almost overnight. "I made flash cards and quizzed myself. It was such a great opportunity."
In addition to covering six Super Bowls and eleven NBA Finals, she worked in the NBA Bubble at Disney World during the league's pandemic season. In 2013, Andrea reported from the scene of the Boston Marathon bombing, just blocks from her apartment. After a promotion to the executive ranks, she is now back in the studio as a Coordinating Producer of the network's flagship program, the 11:00 p.m. SportsCenter.
On Being One of One
"When I started out, women were still taught to keep our head down and move forward. That has changed over the years. The world has changed. My recommendation now is to talk about your experiences. Ask why you might be described as 'pushy' but the word 'stern' is used to describe your male counterpart."
She said talking with Jackie MacMullan, a sportswriter for the Boston Globe and ESPN commentator, helped her sense of belonging, despite often being one of one—the only woman in the locker-room. "She and I spoke about this in depth. You shouldn't have to prove yourself to others in order to belong. You only have to prove yourself to yourself."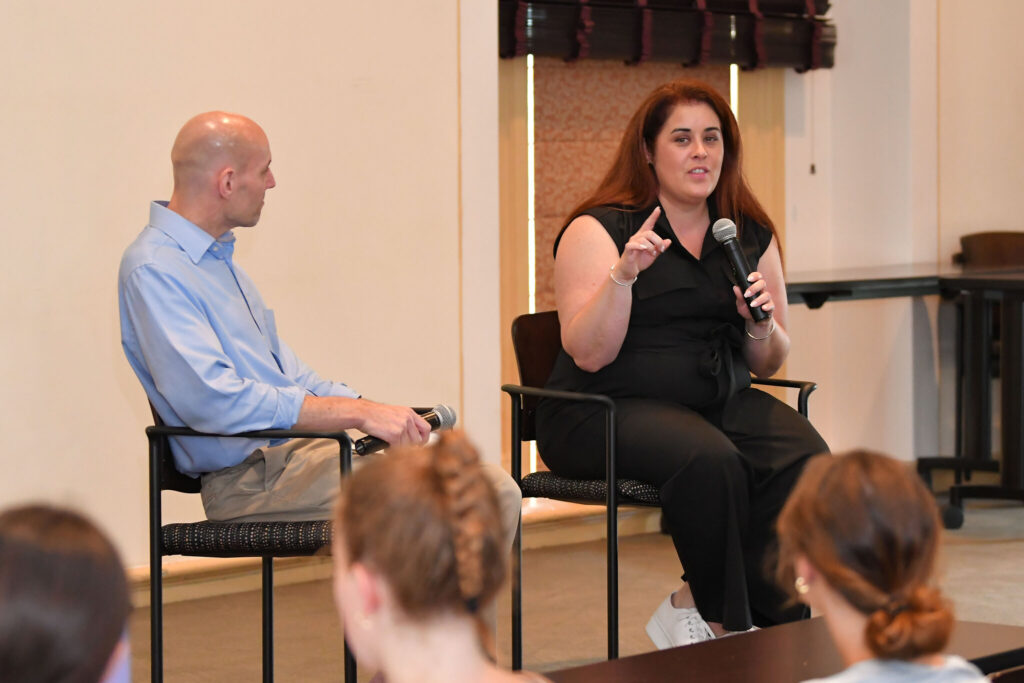 Ties to Wheaton and Teammates Remain Strong
Andrea was initially attracted to Wheaton because of its duel-degree partnership with Emerson College, which gave students at the time an opportunity to earn a Master's in Broadcast Journalism from Emerson once they had completed their studies at Wheaton.
She majored in sociology at Wheaton and believed that joining the field hockey team would guard against homesickness that first year. "Field hockey was a sport I played every fall, and I needed that consistency between home and college," she said. "I'm still quite close with my roommates and teammates (a midfielder and goalkeeper). We text with each other every week. On graduation day, we made a pact that we would travel to Italy together when we turned thirty. I'm happy to say that we did that. And ever since, we have made other trips to Europe."
When asked about specific takeaways from her time at Wheaton that have helped her to succeed, she said, "When people ask about the difference between Wheaton and Emerson, I tell them that Wheaton was where I learned to think. A lot of analytic thinking goes on at Wheaton. For me, Emerson was all about the nuts and bolts—learning how to shoot video, direct, and produce. All those important skills. But the analytic thinking and problem-solving, that's what I learned at Wheaton."