Alumni-Owned Small Business Holiday Shopping Guide
As we know, the last eighteen months have been difficult for many consumers as well as small businesses. Shopping locally in your community has never been more important, especially in light of the global economic supply-demand crisis. This year, in support of Small Business Saturday, on November 27, the Office of Alumni Relations has created an online holiday shopping guide for the Wheaton community to help support our Wheaton alumni small and local business owners.
View the list of businesses below!
Products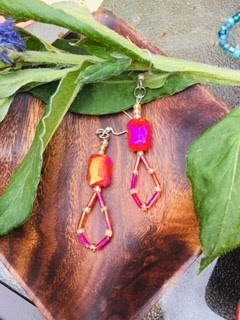 Addicted2Amy
Amy Nolin Flood '93
Warren, MA
Hand made jewelry, greeting cards and wall art.

https://www.etsy.com/shop/Addicted2Amy
Instagram: @addicted_2amy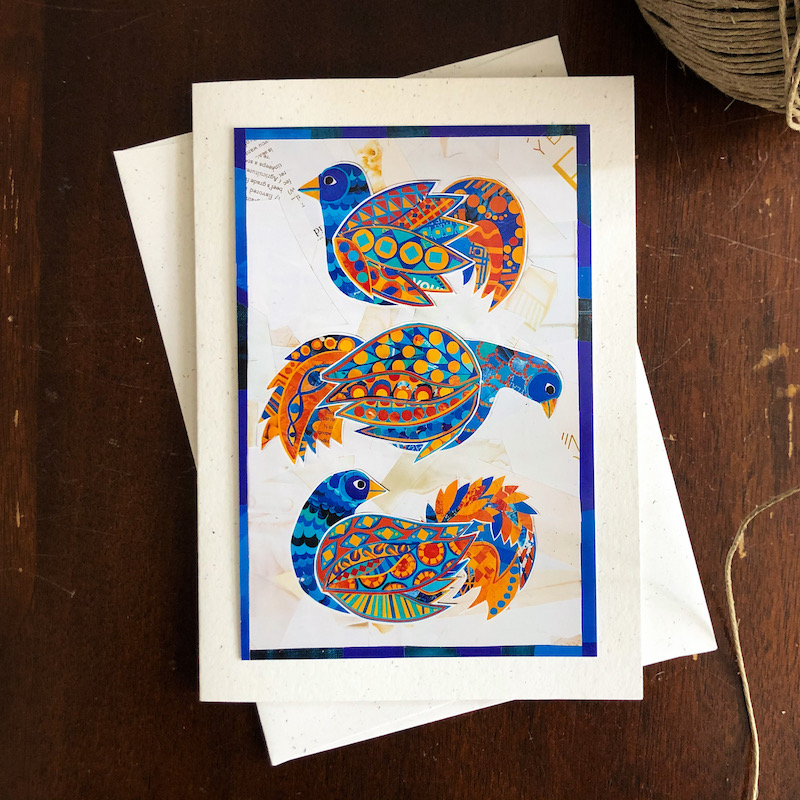 Annabelle Says Hello Card Co.
Charlotte Fressilli '15
Richmond Heights, MO
Greeting cards and holiday ornaments featuring original, collage artwork made from recycled materials. I begin by putting together intricate, colorful designs from recycled magazine clippings. I then order prints of my work from a small print shop and affix them to beautiful sustainable stationary or to recycled cardboard ornament backings that I design and cut myself. All my stationary comes from Greenfield Paper Company in San Diego, and all orders are shipped in sustainable packaging from Eco Enclose. I love pouring my focus into making collage artwork from recycled materials. I love the process of sharing my designs with others as well! I use art as a form of self care, and I like to think that some of that sense of intentionality and focus gets carried along through my work as it travels. The company is named after my dog, whom I love dearly and who is most certainly my boss.
https://www.etsy.com/shop/AnnabelleSaysHello
Instagram: @annabellesayshellocards
Facebook: @AnnabelleSaysHello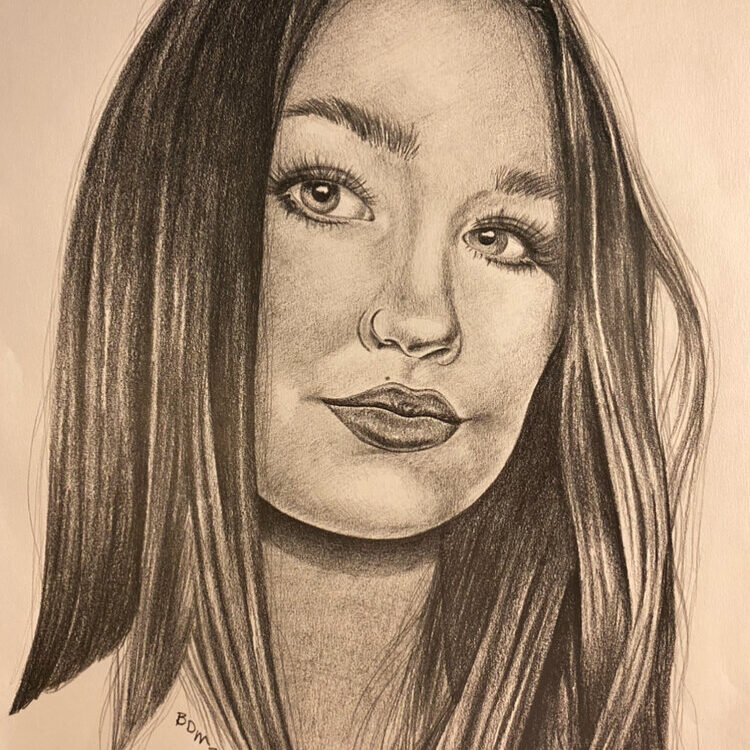 Brianna Medas Art
Brianna Medas '20
Boston, MA
Brianna Medas is a visual artist who works primarily with watercolor, graphite, and charcoal. She received her B.A. in visual art with a double minor in education and business & management from Wheaton College (MA) in 2020. She is currently attending Boston University's Metropolitan College, working towards her Masters of Science in Project Management.
Instagram: @briannamedasart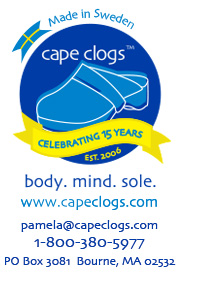 Cape Clogs Inc.
Pamela J. Adams '91
Bourne, MA
Importer of Swedish Orthopedic clogs / footwear. Children's , Woman's / Men's all styles for everyone.
https://capeclogs.com
Instagram: @officialcapeclogs
info@capeclogs.com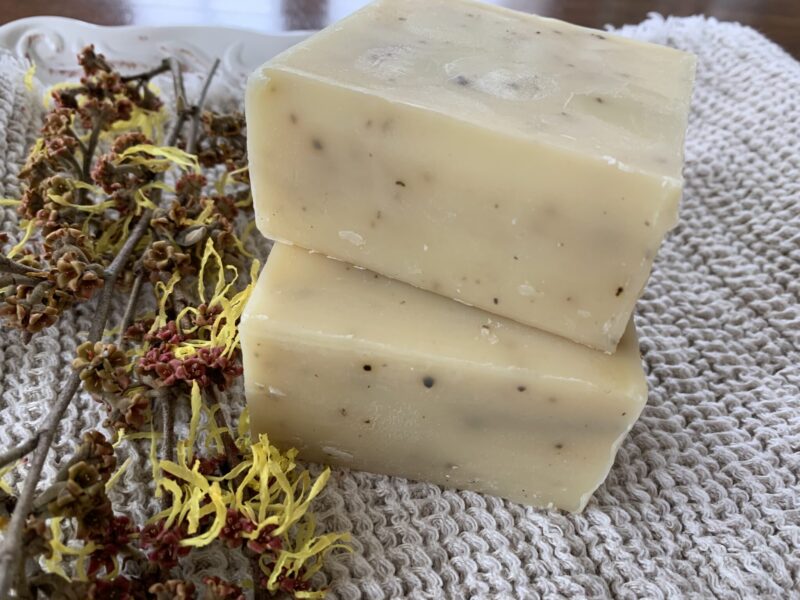 Cathryn Violet Artisan Soap & Wellness LLC
Cathryn Mancuso Newton '02
Rhode Island
Organic botanical soaps that are handcrafted with an artisan's attention to detail in selecting the nourishing properties of organic herbs and essential oils. This European cold process saponification method & recipe creates four to eight pound artisan batches of soap at a time. The elements of nature shine through with simplicity creating incomparable beauty, texture, cleansing and skin nourishing properties.
www.cathrynviolet.com
Instagram: @cathrynvioletsoapandwellness
contact@cathrynviolet.com
Crooked Face Creamery at the Rowbottom Farm
Amy Rowbottom '06
Skowhegan, ME
A unique mix of handcrafted, award winning cheeses made with high quality ingredients from farm to table.
https://www.upnorthricotta.com/pages/farm
Instagram: @crookedfacecreamery
Facebook: @crookedfacecheese
Cultivate What Matters
Emily Thomas '09
Chapel Hill, NC
For over a decade, our tools and teaching have sparked positive and powerful change in thousands of lives across the globe. Whether you're passionate about achieving your goals, growing your faith, or building an intentional life, Cultivate What Matters is here to help. Shop our best-selling products: the PowerSheets® annual goal planner and Write the Word™ journals!
https://cultivatewhatmatters.com/
Instagram: @cultivatewhatmatters
emily@cultivatewhatmatters.com
Derin International
Sara Sharpless '93
Red Hook, NY
Turkish woven handbags and accessories, which I design, Turkish Towels of all shapes and sizes and more!!
www.derincollection.com
Instagram: @derincollection
Derinboutique@gmail.com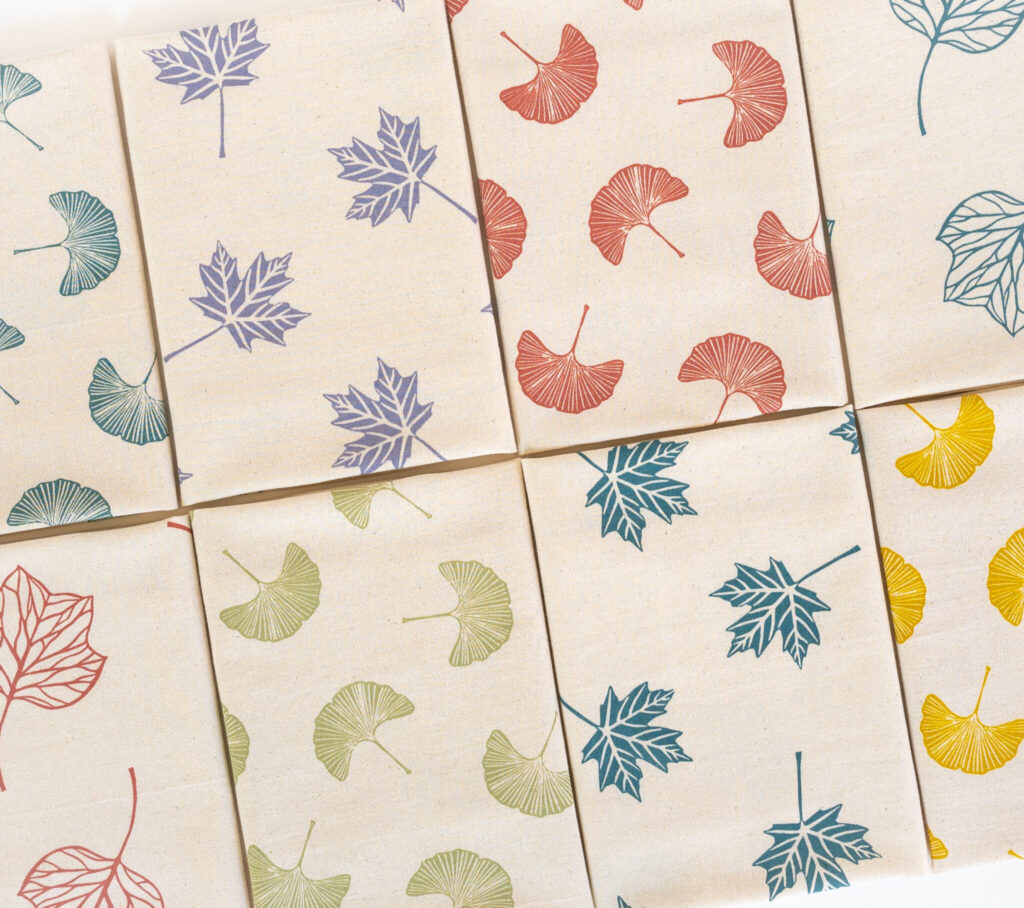 Emma B. Garcelon
Emma Garcelon '18
Portland, ME
I design and create hand-printed textiles and original art prints. My products are sustainably minded and inspired by Earth. My current focus is on a collection of tea towels and napkins printed with leaf designs inspired by leaves I have collected and pressed.
https://www.emmabgarcelon.com
Instagram: @emmabgarcelon
emmabgarcelon@gmail.com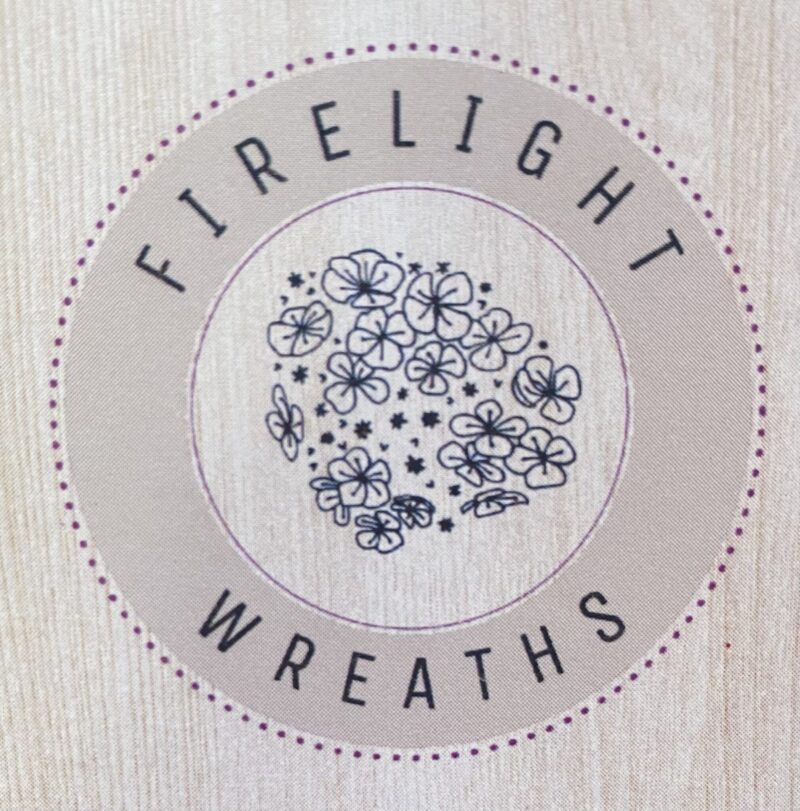 Firelight Wreaths
Christina Burke Bruns '97
York, ME
Firelight Wreaths is an online shop providing high quality faux wreaths for every season. We help you create a welcome home – for you and your guests. Our wreaths are handmade in Maine and are ideal for front doors, porches, covered entryways, and perfect for indoor decor.
www.etsy.com/shop/firelightwreaths
Instagram: @firelightwreaths
Facebook: Firelight Wreaths
Firelightwreaths@gmail.com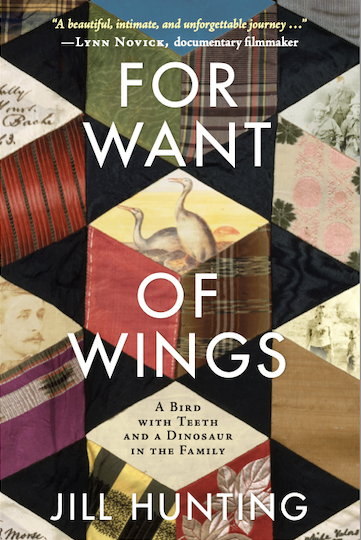 For Want of Wings
Jill Hunting '72, Author
Pasadena, CA
Part detective history, part memoir, For Want of Wings is Jill Hunting's captivating account of her journey into prehistory, national history, and family history.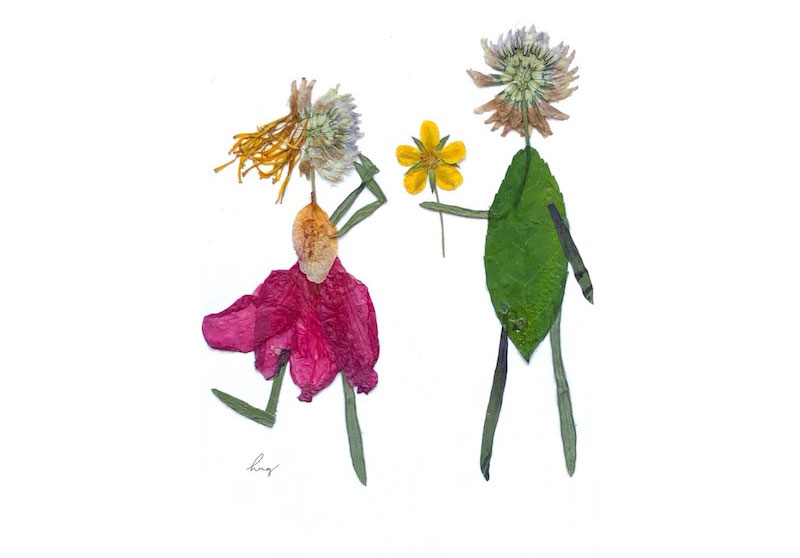 Hannah Roses Garden: Pressed Flower Designs
Hannah Gasperoni '17
I am an artist who works with pressed flowers and dried botanical pieces to create beautiful collages! When flowers are not in bloom I sell reprints, greeting cards, stickers, tote bags and mugs. Thank you so much for your support!
https://www.etsy.com/shop/hannahrosesgarden
Instagram: @hannahrosesgarden
hrosesgarden@gmail.com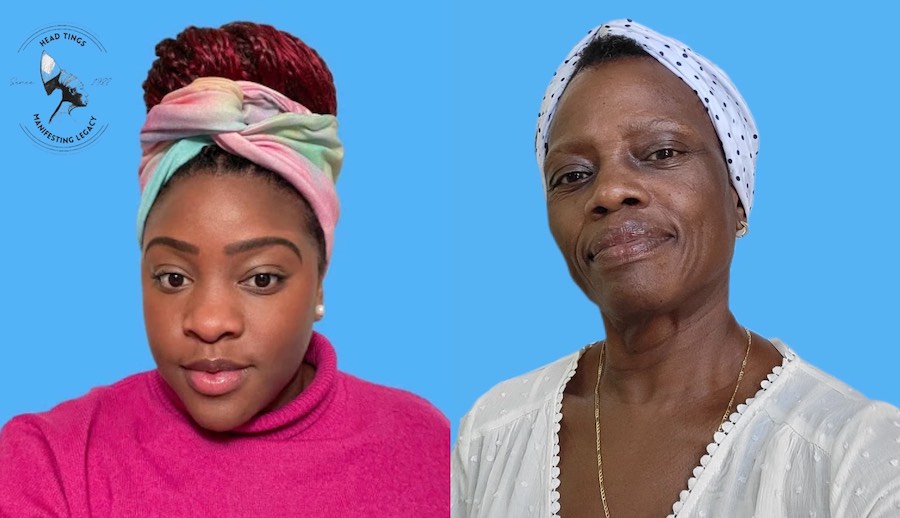 Head Tings LLC
Maya Ennis '14
Brooklyn, NY
Head Tings is a handmade wearable art hair accessory brand, powered by mother daughter duo Maya and Xinia. With the unique use of wire, these head bands, wraps, and scrunchies are quick and easy to style and provide a healthy dose of sparkle to get your day started.
https://headtings.com/
Instagram: @head.tings
headtings@gmail.com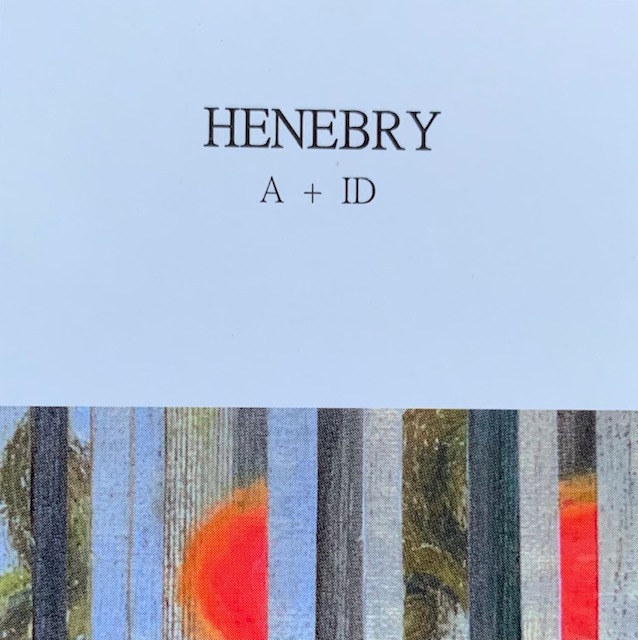 Henebry A + ID
Elissa McConnell Henebry '89
Lowell, MA
Art + Interior Design: artwork and design services
https://www.elissahenebry.com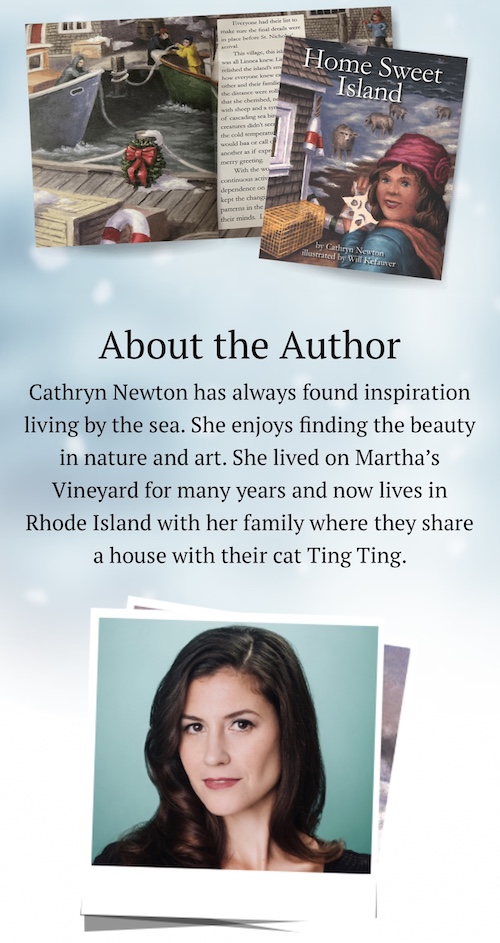 Home Sweet Island
Cathryn Mancuso Newton '02, Author
About the Book:
When Linnea learns of an impending winter storm stranding a ship, she quickly devises a plan to bring the island together. Much to her surprise her compassion evokes holiday magic!
This story was inspired by a community of islanders from Menemsha, Martha's Vineyard who braved high running tides and the winter elements to bring Christmas cheer to a vessel from Europe which was stranded over the holidays in the harbor. It's a heartwarming tale of true islander spirit and kindness!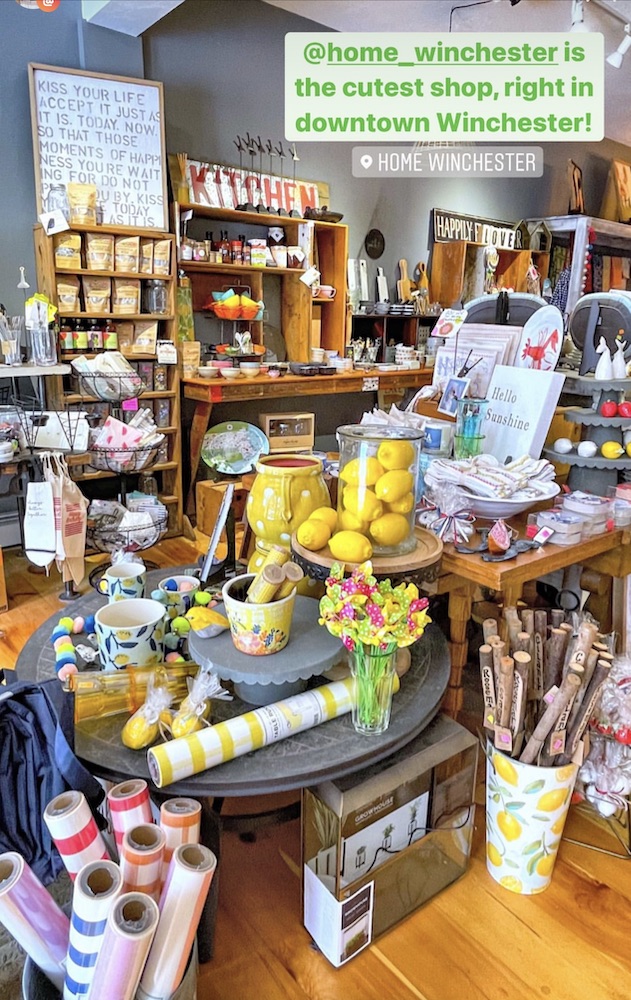 Home: Goods for Living & Giving
Michele Adams Norman '85
Winchester, MA
Home, a cozy shop in the heart of Winchester, Massachusetts, offers a carefully curated collection of goods and gifts for every home. From tableware and barware to wall decor and whimsical gifts, Home is the perfect place to get the perfect something for everyone on your list.
www.home-winchester.com
Instagram: @home_winchester
Facebook: @home.winchester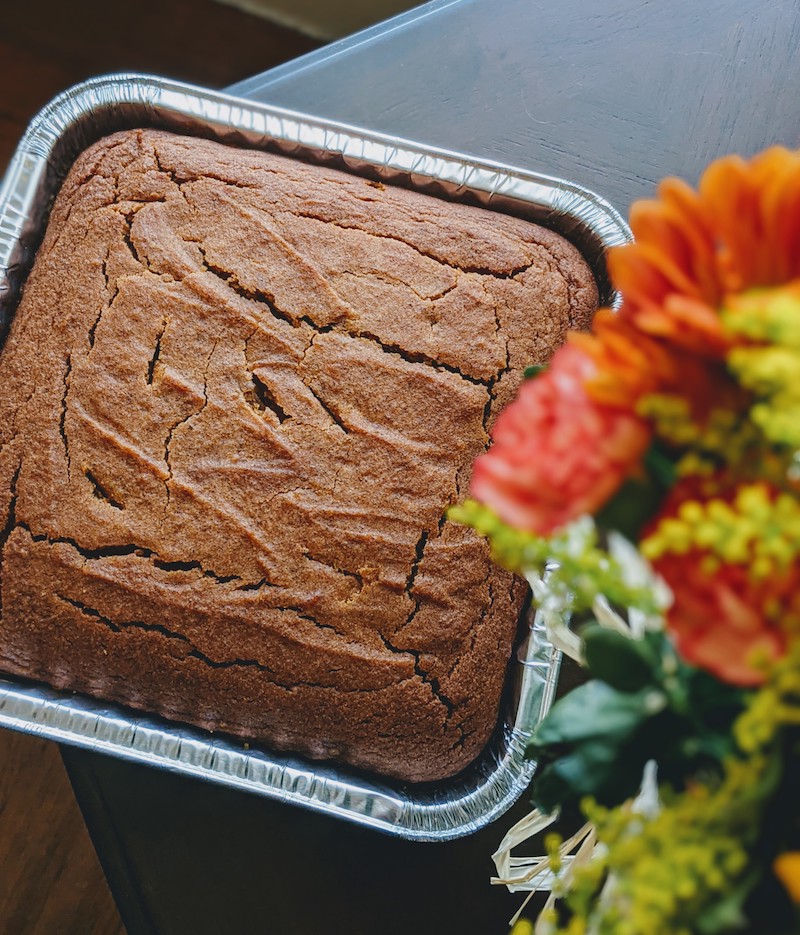 Hooligan's Pumpkin Bread
Haley Gamel '20
Woonsocket, RI
Hooligan's Pumpkin Bread sells homemade pumpkin bread that is perfect for special occasions like holidays, and it is specifically geared towards people with food sensitivities or food preferences. The pumpkin bread is gluten-free, nut-free, lactose-free, is made with cage-free eggs, and uses less sugar of a healthier kind.
Ib-originals Greeting Cards
Ibby Tarshis '11
Somerville, MA
Ib-originals greeting cards for all occasions are handmade with colorful scrapbook paper, card stock, stickers, and stamps. You can find them on Etsy and at 4GoodVibes gift shop in Somerville, MA. For the holidays, I have winter holiday cards, as well as stationary packs that can be given as gifts.
https://www.etsy.com/shop/IbOriginals
Facebook: @Ib-originals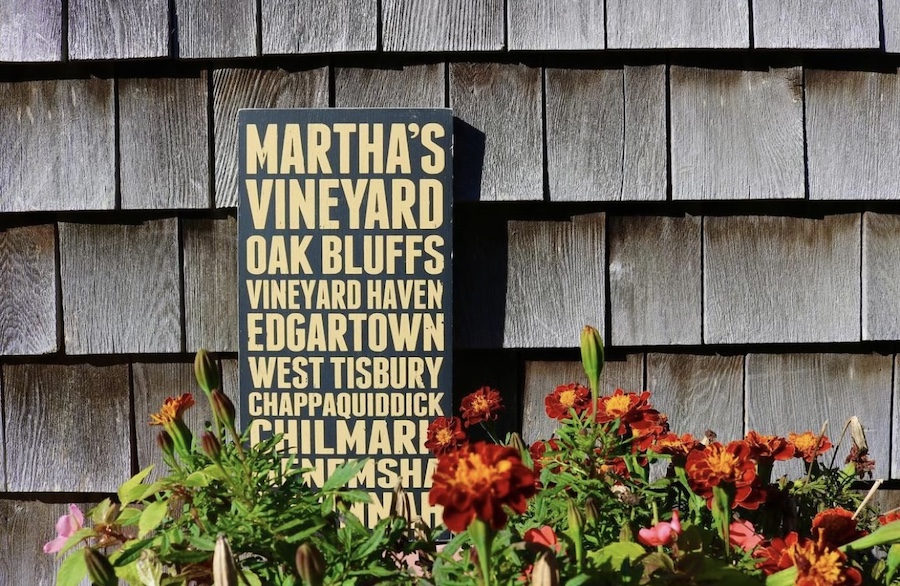 Island Made MV
Charlotte Hall '17
Martha's Vineyard, MA
A family of makers established in 1987. We strive to celebrate our unique community and local pride by offering handmade, sustainably sourced items. Our creative pursuits vary and reflect each family member's talents and interests. We are Island Made.
https://islandmademv.com
Instagram: @islandmademv
makers@islandmademv.com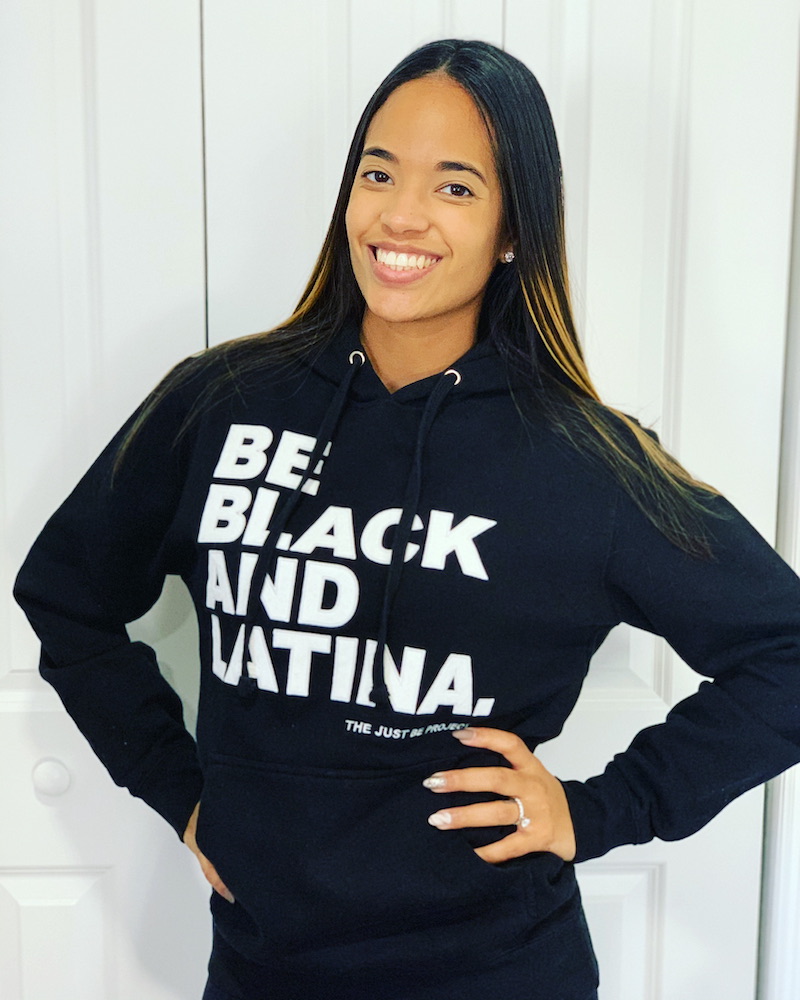 Just Be The MVMT
Yanet Bautista '13
The MVMT believes that fostering financial literacy, leadership skills, and entrepreneurial spirit in our young people is the ultimate anti-racist act and will build a better future for Black communities and us all. The MVMT started with the selling of thought provoking apparel with the goal of igniting conversations at every dinner table or every moment people gather around topics that are thought provoking and affects us all. Our signature hoodies are looking to be at your next dinner table engaging in conversation about what thoughts are provoked by the words written on the MVMT's apparel that you purchase.

Instagram: @JustBeTheMVMT
Justbethemvmt@gmail.com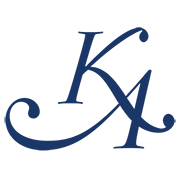 Kathryn Ann Designs
Ann Zarchen Knoblock '81
Sudbury, MA
Handmade stackable bracelets in Sterling Silver and 14 KT Gold-Filled. Mix, Match, Stack.
https://kathrynanndesigns.com
Instagram: @kathrynanndesigns
ann@kathrynanndesigns.com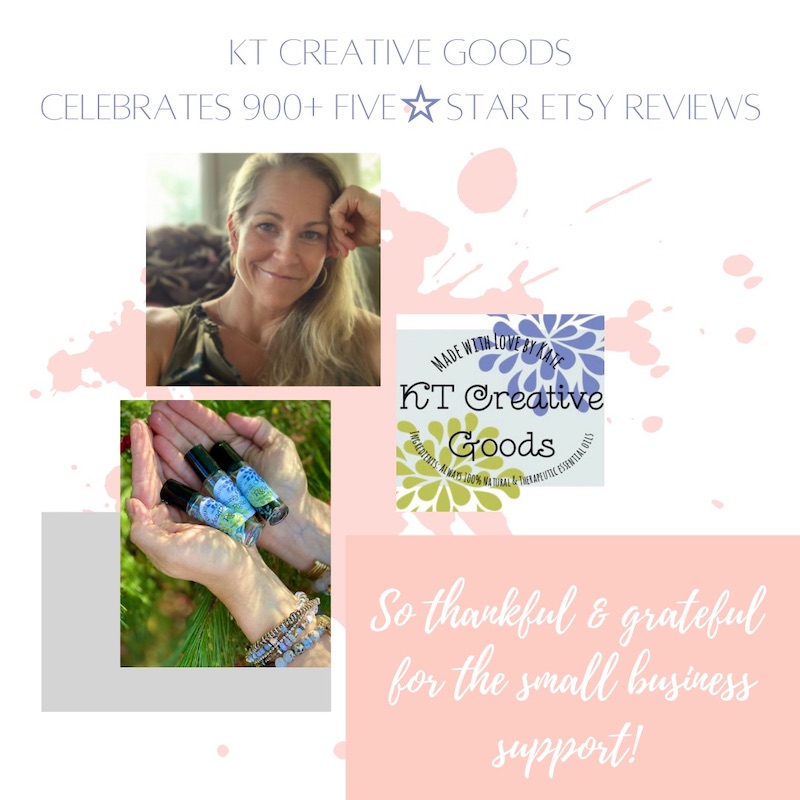 KT Creative Goods
Kate Klode Tomasini '97
Melrose, MA
KT Creative Goods crafts all natural, essential oil based bath, body, wellness aromatherapy self-care products. All of my goodies are handcrafted in small, artisan batches to ensure freshness and quality – no preservatives are ever used. My proprietary blended goodies have been created with purposeful ingredients and thoughtful intention to provide an enhanced array of supportive healing & wellness benefits.
www.ktcreativegoods.etsy.com
Instagram and Facebook: @KTCreativegoods
ktcreativegoods@gmail.com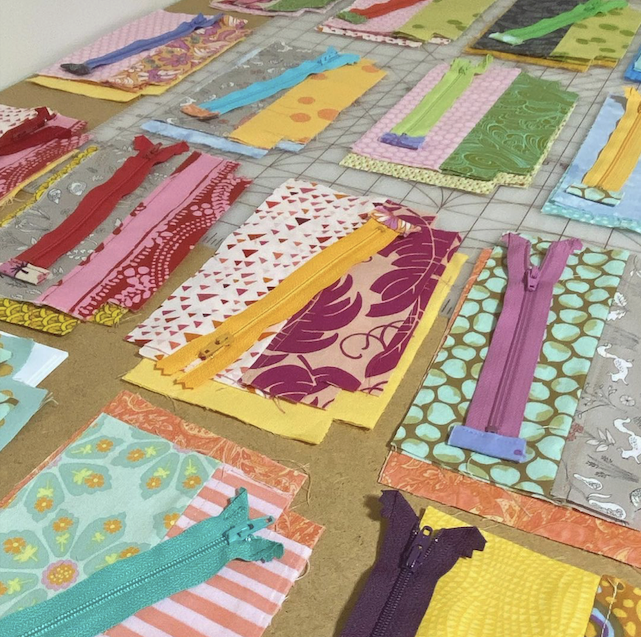 Little Mouse Dry Goods
Abby Weissman'03
Maine
Mother & daughter duo. Handmade with love! We hope you find something you love. All orders are made with soft cottons, and sprinkled with a little bit of magic. Each order comes specially wrapped, so let us know if you need a gift tag! xo, the Mice
https://www.etsy.com/shop/Littlemousedrygoods
Instagram: @littlemousedrygoods
LtTrinkets
Louise Scrivines '92
Fairfield, CT
Sea Glass Hair Barrettes and Jewelry.
www.Lttrinkets.Etsy.com
Instagram: @lttrinkets
Lttrinkets@yahoo.com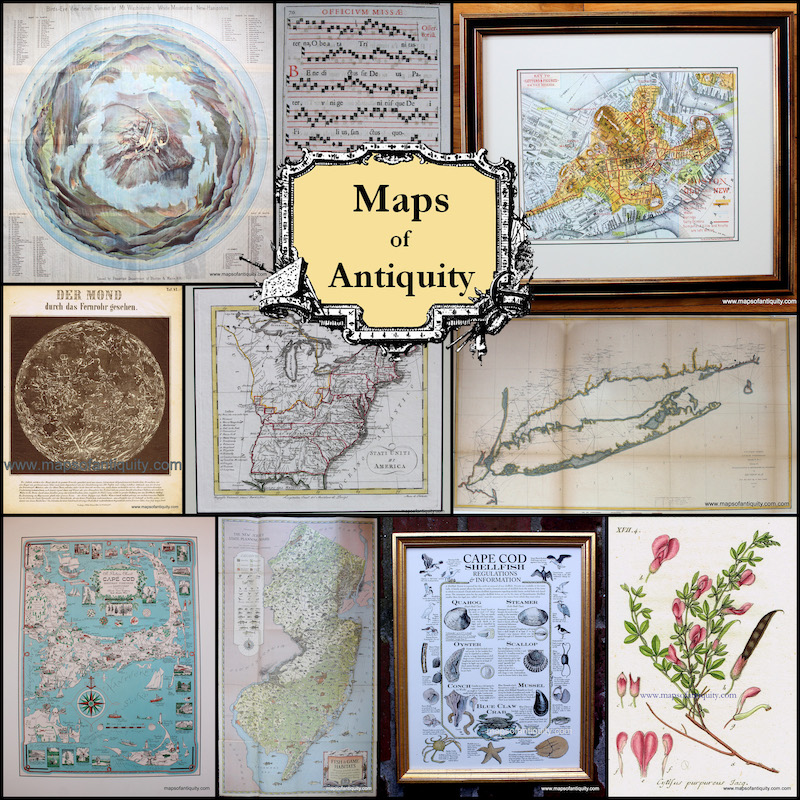 Maps of Antiquity
Perri Kapp '08
Chatham, MA
Antique maps, nautical charts, and prints. Worldwide selection with a focus on New England with town maps for the Northeast. Antique maps, charts, and prints are fun and interesting gifts! Open year 'round 10-5 Monday through Saturday and 12-5 on Sundays.
mapsofantiquity.com
Instagram, Facebook, Twitter and Pinterest: @lmapsofantiquity
perri@mapsofantiquity.com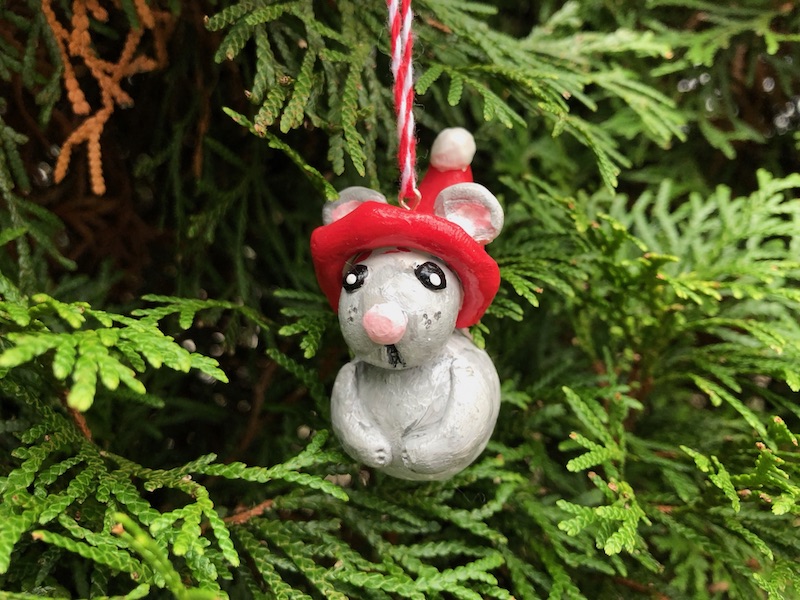 Mystic River Clay
Emma Heffern '00
Medford, MA
Mystic River Clay, based in Medford, MA, specializes in hand-crafted ornaments and more.
https://www.facebook.com/MysticRiverClay
Facebook: @MysticRiverClay
mysticriverclay@gmail.com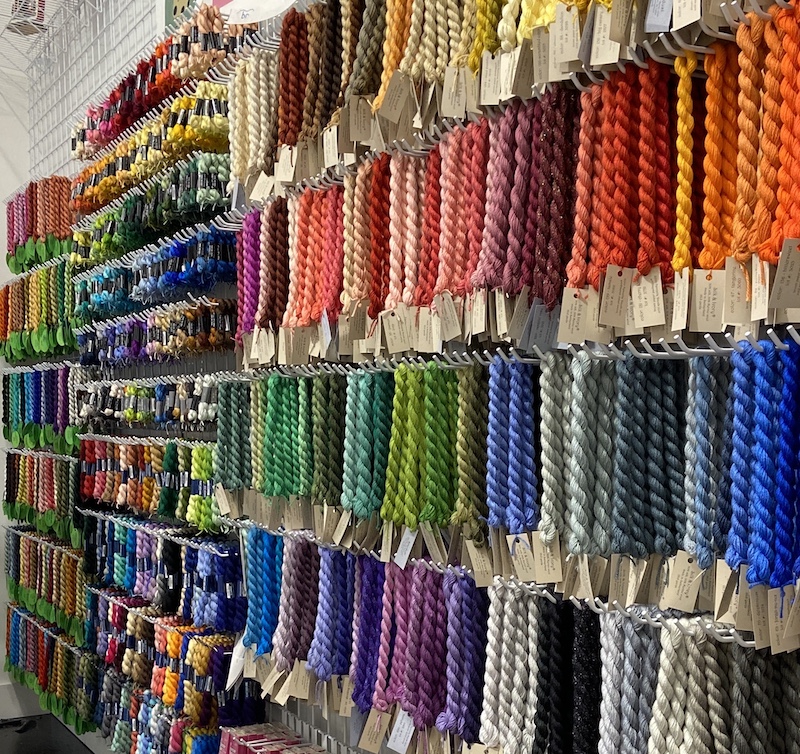 Poppypointe
Lauren Ryan '93
Charlottesville, VA
We are a full service needlepoint shop. If you don't stitch, we have kits to learn and we carry all sorts of totes, bags and clutches that appeal to everyone!
https://poppypointe.com/
Instagram and Facebook: @Poppypointe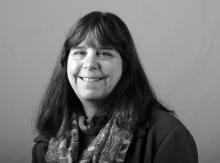 Robin Smith-Johnson '76, Author
Robin Smith-Johnson grew up in Orleans, Massachusetts, where she honed her love of reading and creative writing. She has degrees in English from Wheaton College in Norton, Massachusetts and Bowling Green State University in Ohio.
Author of:
Cape Cod Curiosities
Legends and Lore of Cape Cod
From the Farther Shore: Discovering Cape Cod and the Islands Through Poetry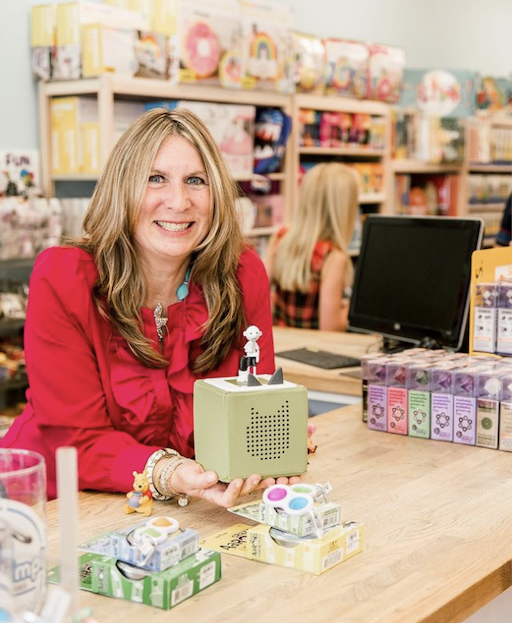 Rock Paper Scissors Toy Store
Kimberly Sousa Panton '90
Duxbury, MA
Rock Paper Scissors Toy Store (RPS) is a specialty toy store located in the South Shore of Massachusetts that offers a great selection of quality, hard to find toys. We are an award winning store, voted #1 in the South Shore by the readers of South Shore Living Magazine and Wicked Local Readers Choice.
https://rockpaperscissorsdux.com
Instagram: @rockpapertoysdux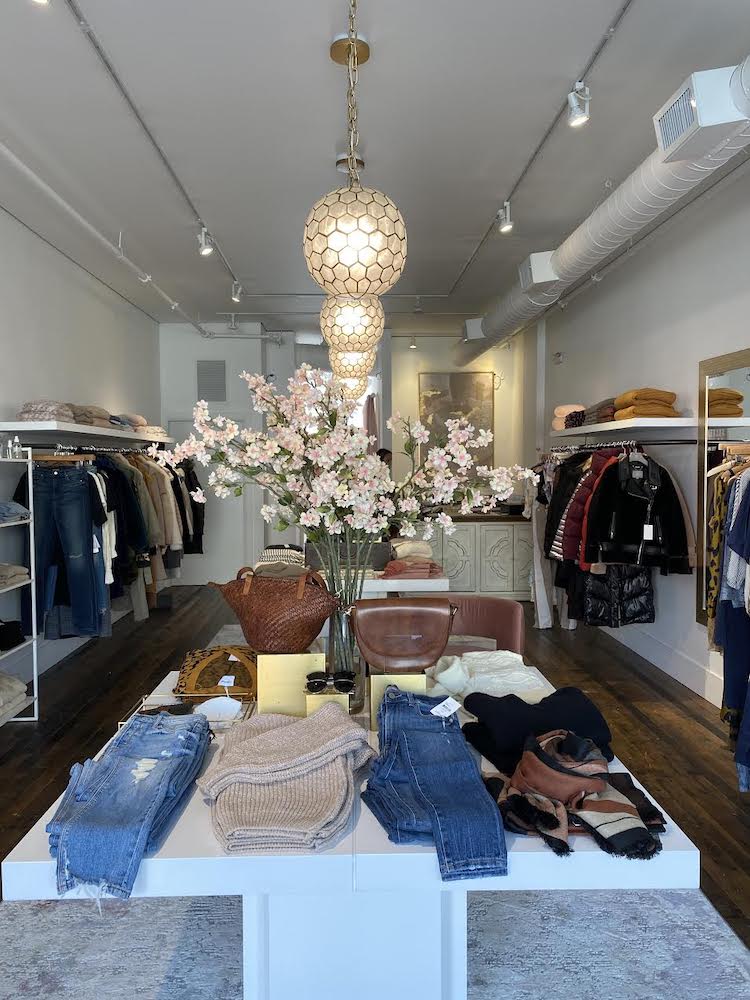 Salt Boutique
Jennifer Jenkins Devlin '93
Wellesley, MA
Women's clothing and accessories boutique.
www.saltnantucket.com
Instagram: @saltnantucket
jen@saltnantucket.com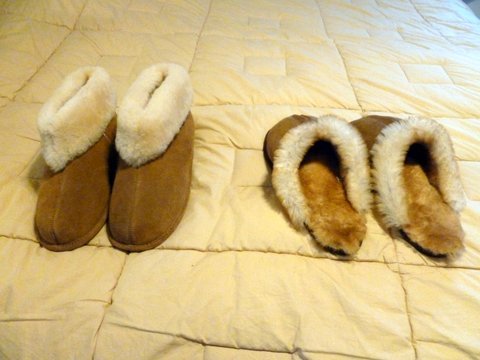 Sheepskin Shop
Jill Eiseman Witherell '64
Johnstown, PA
Sheepskin and wool fabric items: slippers, capes, ear muffs, blankets, sheepskins, etc.
https://sheepskinshop.square.site
For business contact only: 814-418-3888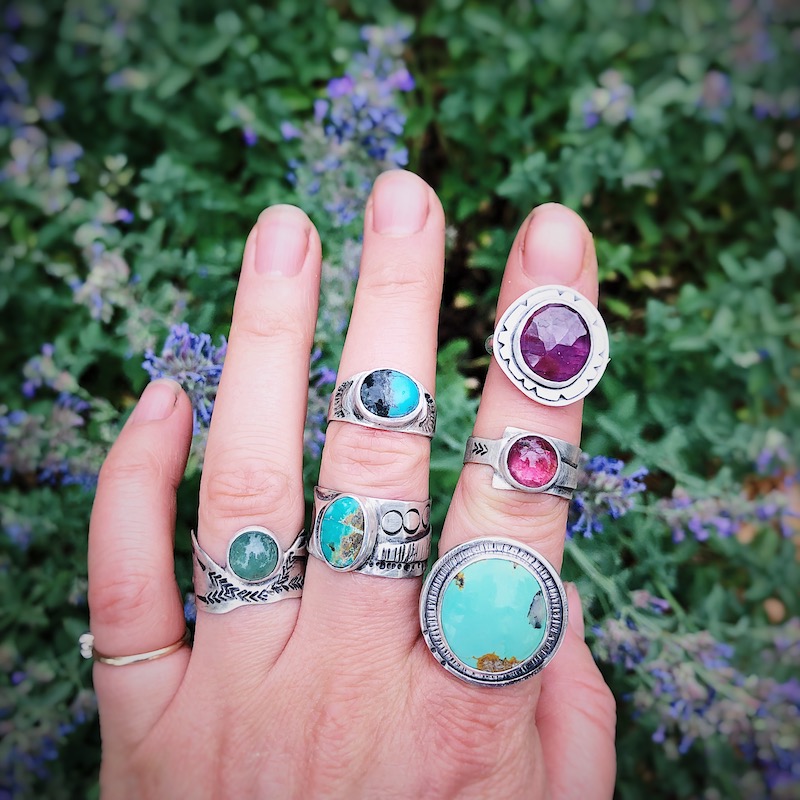 SkyJune Designs
Skyler Dunfey '15
Flagstaff, AZ
Handmade jewelry – Designed for everyday comfort and made to withstand your active lifestyle.
https://skyjune.com/
Instagram: @skyjunedesigns
For business contact only: sky@skyjune.com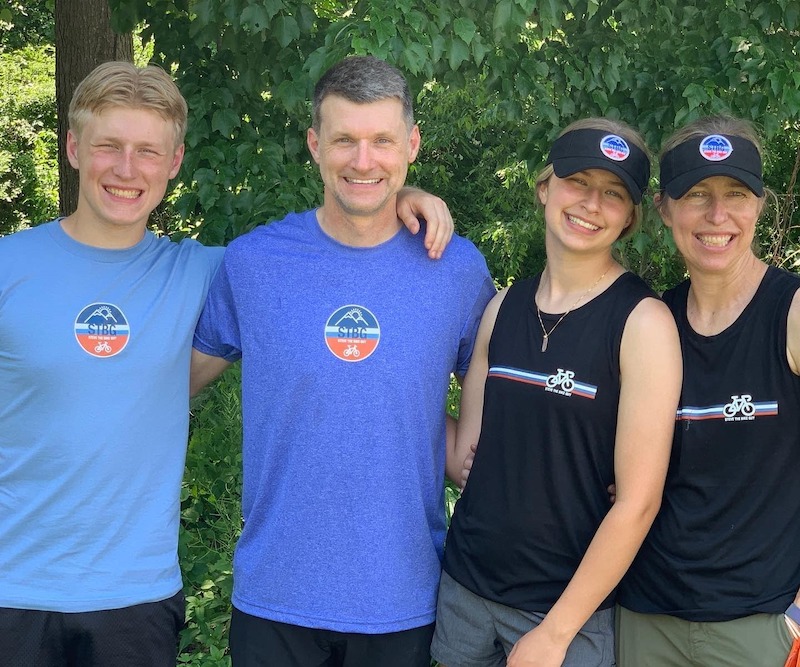 Steve The Bike Guy
Kristin Sundin Brandt '94, co-owner
Sherborn, MA
Customer-focused, family-owned bike shop offering expert service, new bikes, parts & accessories, and lots of advice and help.
https://www.stevethebikeguy.com/
Instagram and Facebook: @stevethebikeguy
info@stevethebikeguy.com
Services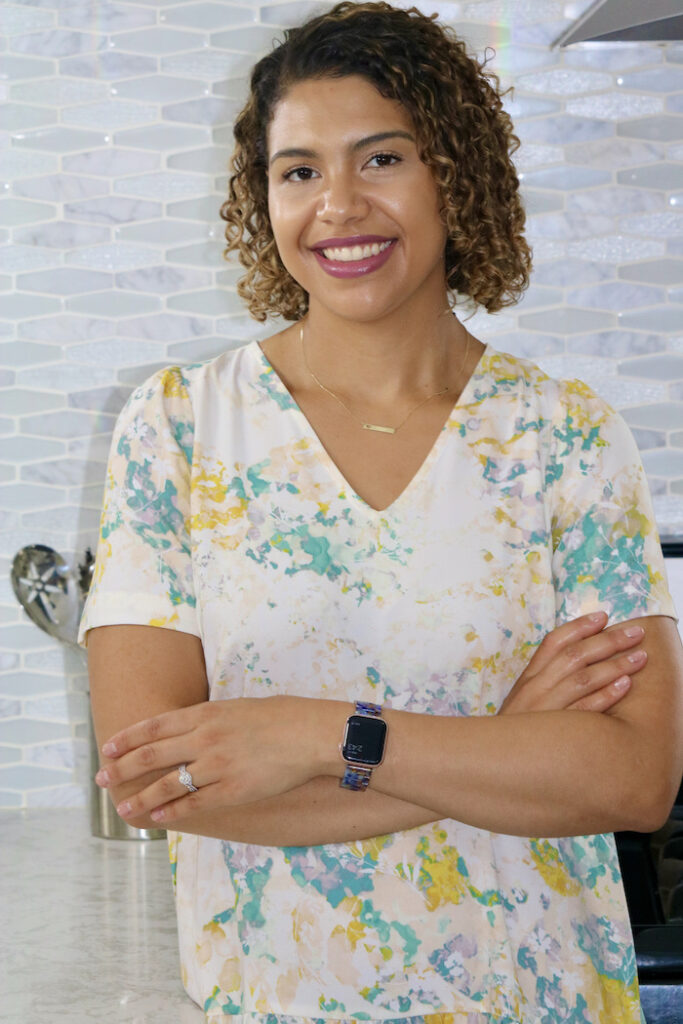 Bagels and Brussels – Boutique Wellness Consultancy
Naihomy Jerez '08
Virtual
Bagels and Brussels is a boutique wellness consultancy, where we help women lose weight without dieting. We help you make a sustainable, healthy, and delicious lifestyle shift to be able to make the most mindful food and drink choices in any situation you find yourself in. All while not feeling hungry, afraid, self-conscious, or stuck to a meal plan and always feeling supported and encouraged.
bagelsandbrussels@gmail.com
Instagram: @bagelsandbrussels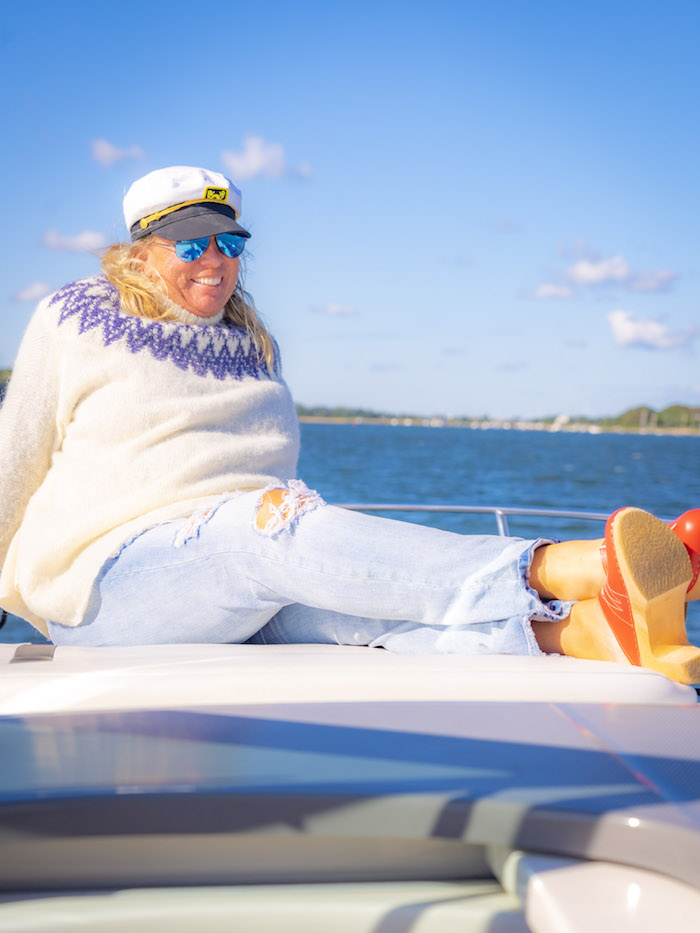 Canal Creative Charters
Pamela J. Adams '91
Bourne, MA
Captain Adams will make your day special on the waters of Buzzards Bay! Celebrating a special occasion? Want to go through the Cape Cod Canal? Reserve for 2022 season, call 508-524-9561. Relax on the waters, I will tailor your day on my private 28 foot sport cruiser, Monterey named Summer Wind.
https://www.canalcreativecharters.com
Facebook: @CanalCreativeCharters
info@canalcreativecharters@gmail.com
Carpe Diem Theater
Alexandra van den Heever '14
Ballston Spa, NY
Carpe Diem Theater is a children's summer camp that is hosted in the historic Round Lake Auditorium, in Round Lake, NY. This intensive four week program teaches children the basics of theatre through daily rehearsals, theatre games, master classes, ​and final performances. We also offer smaller theater workshops and events throughout the year.
Instagram:@carpediemtheater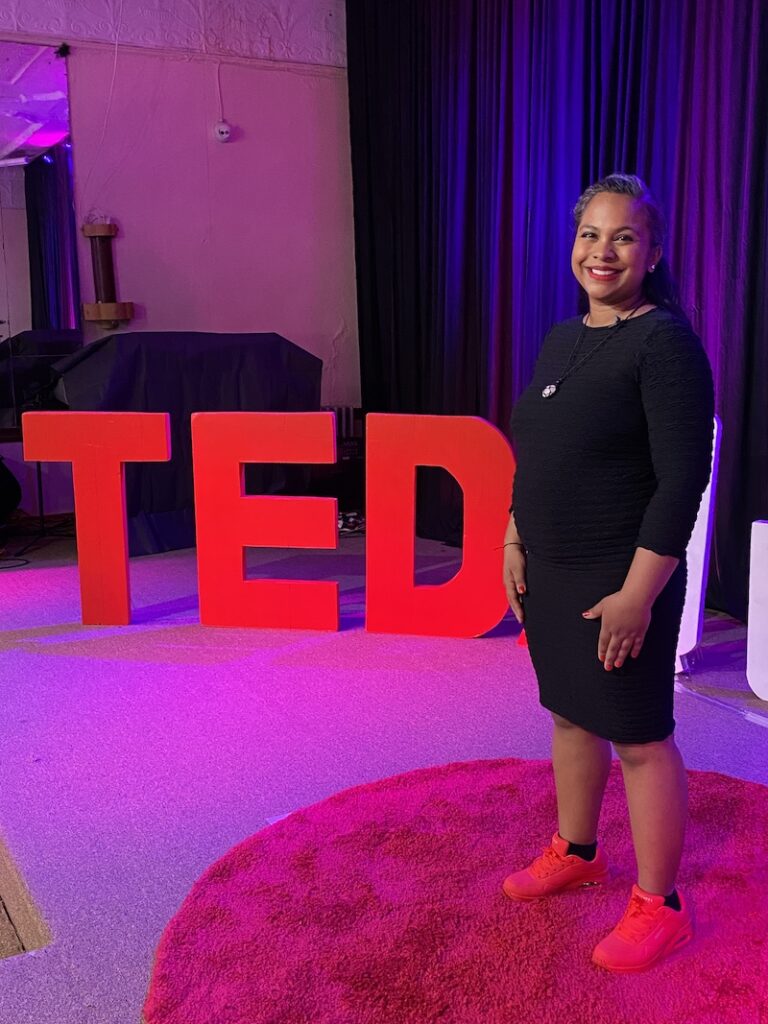 Coach Shanita, Inc.
Shanita Liu '07
Virtual
As a life coach and healer helping folx activate courage to make major moves and say bye to burnout, my services include 1:1 virtual coaching sessions, group workshops, speaking at events, and integrated energy healing. To learn more about taking courageous action, book a free 30-minute consultation here: https://calendly.com/sl-/30min/
www.coachshanita.com/collaborate
Instagram: @coachshanita
LinkedIn: @shanitaliu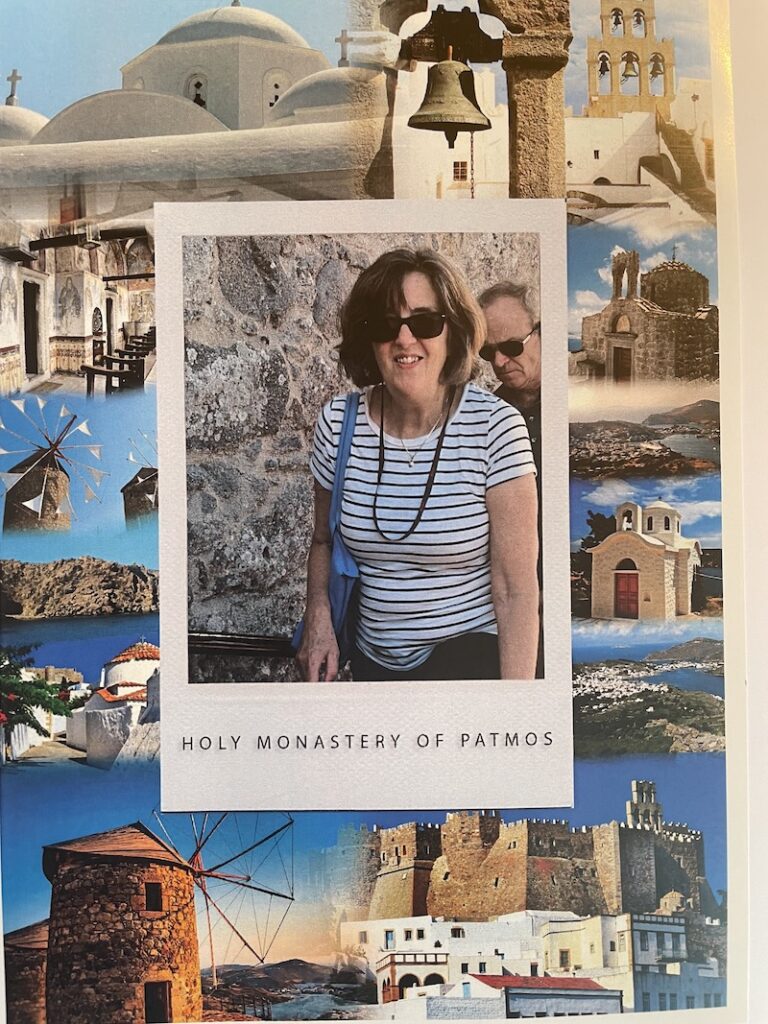 Cruise Planners – Peggy Dawson Travel
Peggy Knox Dawson '78
Travel advisor specializing in river and ocean cruises and independent or guided travel to Europe, the Caribbean, North America, Tahiti, and Japan.
www.peggydawsontravel.com
Instagram: @peggykdawson
peggy@cruiseplanners.com

Darkness to Light
Katelyn Brewer '07
North Charleston, SC
We provide training to adults to prevent child sexual abuse.
www.D2L.org
Instagram: @d2lorg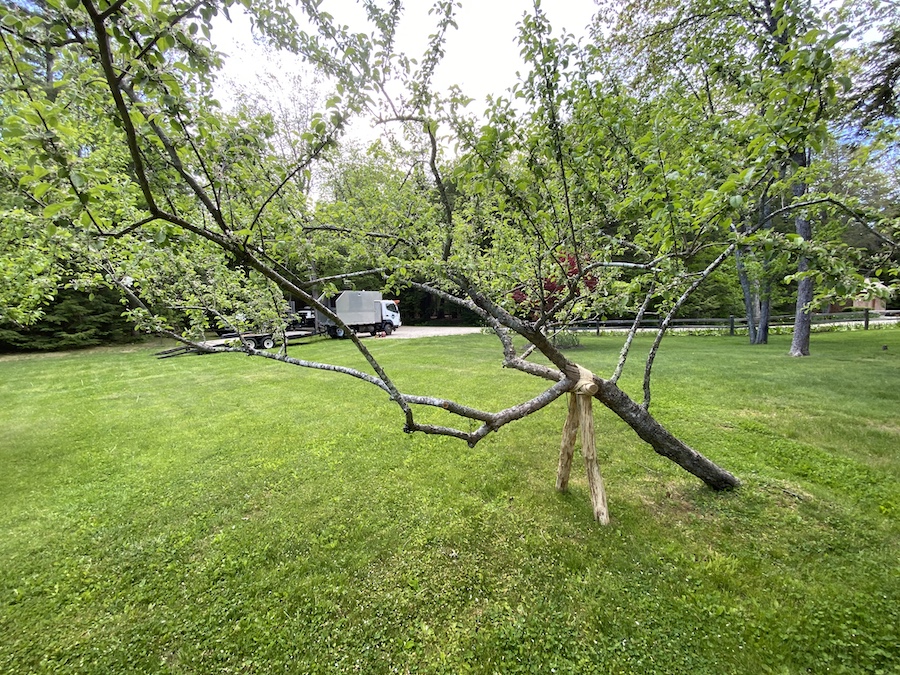 Dirigo Tree Service LLC
Noah M. Buehner '08
Freeport, ME
Tree care, removal and consultation.
https://www.dirigotreeservice.com
Instagram: @dirigotreeservice
dirigotreeservice@gmail.com
Evans & Co. Antiques & Appraisals
Barbara Evans '63
Bethel, CT
Evans & Co. Antiques & Appraisals.
Joyful Parenting Coaching
Elisabeth Stitt '88
San Francisco Bay Area, CA
My mission is to help you rely on your core values while at the same time learning effective methods of parenting, so you can learn to love and experience the joy of parenting. You'll learn parenting techniques grounded by sound child development principles as well as tools from my extensive bag of tricks.
https://www.elisabethstitt.com/about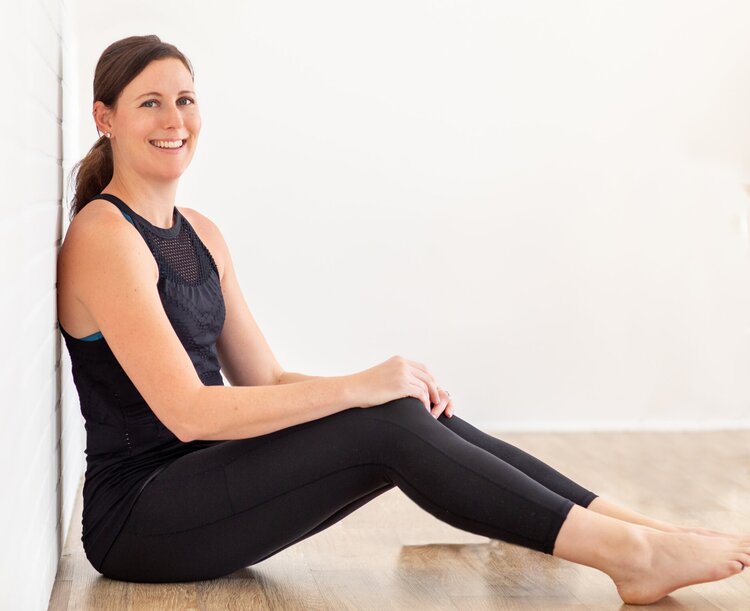 KatFit
Kathrine Wallace Bright '05
Malvern, PA
My passion is to help women in all stages of life to be strong and confident in their bodies. I specialize in prenatal, postpartum, and perimenopause fitness for seasoned mothers and women. I do not specialize in one-size-fits-all routines. I customize exercises and workouts to meet my clients where they are at.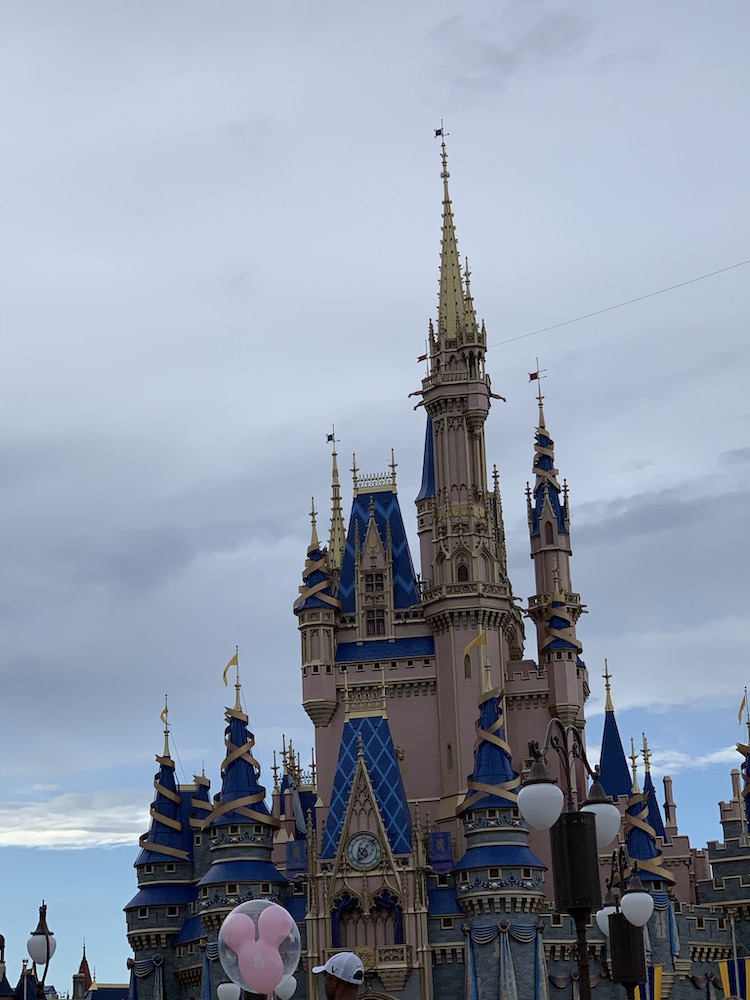 Keys to the Castle by Ryan and Courtney
Courtney Kelley Viveiros '07
Travel agent with a focus on all things Disney
Facebook: @KTTCRyanandCourtney
Kttc.courtney@gmail.com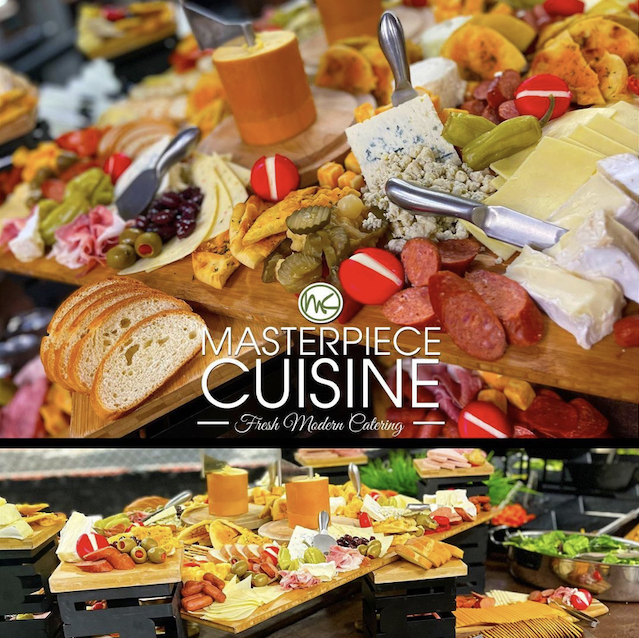 Masterpiece Cuisine LLC
Scott Mahan '05
Las Vegas, NV and Santa Fe, NM
Masterpiece Cuisine is a catering company in Las Vegas providing ultimate guest experiences. Whether you're planning a cocktail reception, corporate gala, open house, wedding, craft services or entertaining friends, the last thing you want to think about is… well… Planning it. That's where we excel. You've got the guest list. We've got everything else.
https://www.masterpiececuisine.com
Instagram: @masterpiececuisine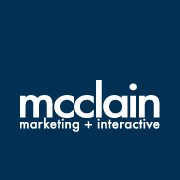 MCCLAIN MARKETING + INTERACTIVE
Sue Ellen McClain '72, P'00
Portland, MA and New York, NY
McClain is a marketing strategy, creative and interactive firm. Innovative thinking, strategic insight, creative and technical ingenuity and real-world experience sets us apart as a nationally-known strategic marketing firm specializing in building brands, solving marketing challenges, and producing results.
http://www.mcclainmarketing.com

Mohawk Sign Systems
Bettina Grzybowski Dill '88
Schenectady, NY
Mohawk Sign Systems, Inc. has been manufacturing architectural interior and exterior signage in the construction industry for over 60 years. This long-term knowledge is key to producing ADA-compliant, high quality, complementary wayfinding systems.
https://www.mohawksign.com
Facebook: @MohawkSignSystems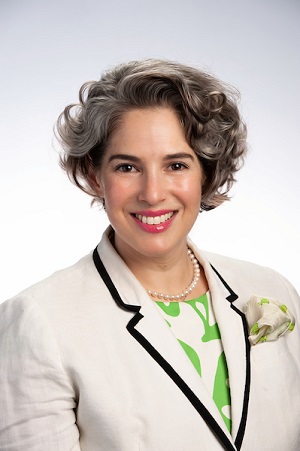 Sandra Gilpatrick, CFP ®,CDFA™
Sandra Sable Gilpatrick '95
Boston, MA
An experienced investment professional for more than 23 years, Sandra focuses her business on holistic wealth management and planning for women. She helps women organize and understand their financial lives and guides them along a path toward their goals. Sandra wants women to be comfortable with their financial decisions and helps them to that end.
https://www.sandragilpatrick.com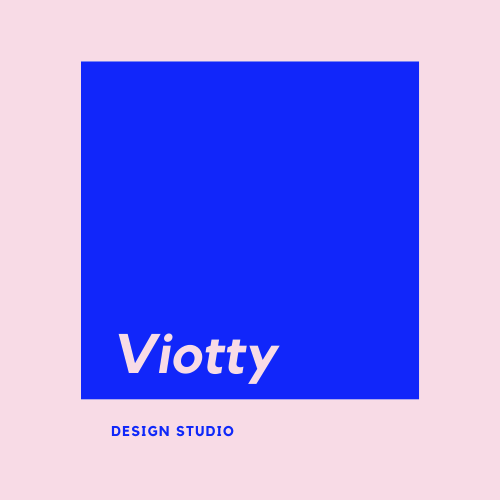 Viotty Design Studio
Samantha Viotty '14
Washington, DC & Virtual
The Viotty Design Studio is design studio that focuses design research, creative strategy, illustration design, logo design, and program/event planning.
viottycollection.com
Instagram: @viottydesign
Entertainment & Dining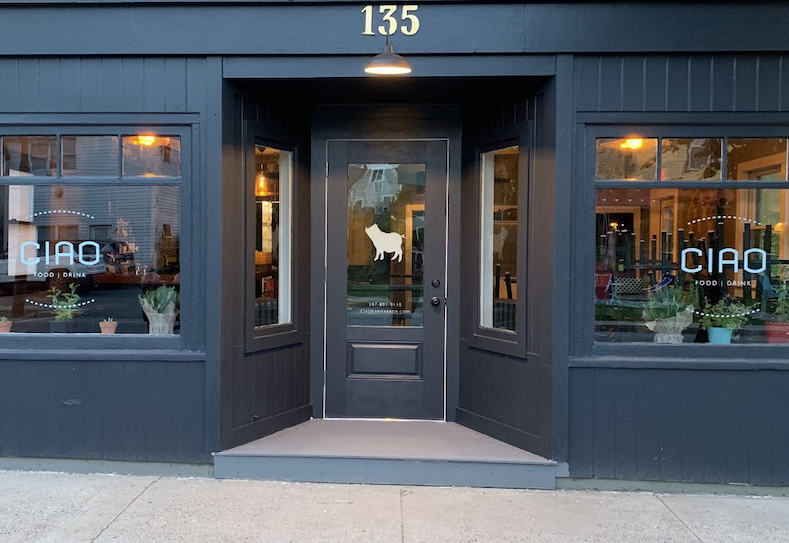 CIAO food + drink
Marie Curcio Yarborough '93
Bar Harbor, ME
A casual restaurant in downtown Bar Harbor on Mount Desert Island, our ever-changing menu showcases small plates, house-made desserts, an eclectic wine list, and specialty cocktails. A visit to Acadia National Park wouldn't be complete without a stop at CIAO.
https://www.ciaobarharbor.com
Facebook: @CIAObarharbor
Instagram: @CIAO_barharbor
ciaobarharbor@gmail.com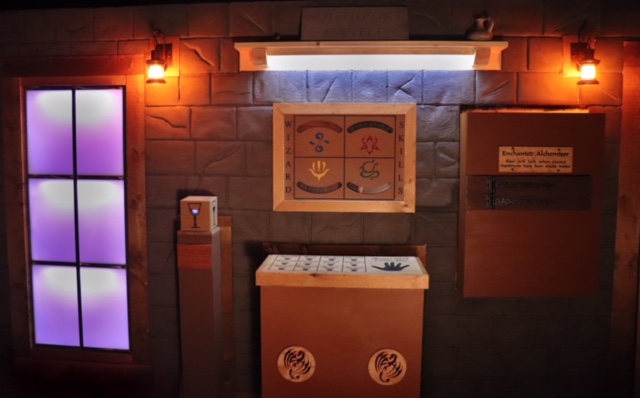 Maine Escape Games
Rene Letourneau '94
South Portland, ME
Maine Escape Games is an interactive, live-action entertainment experience where teams of two to ten players work together to solve clues and puzzles in order to escape a themed room within one hour!

https://maineescapegames.comreservations@maineescapegames.com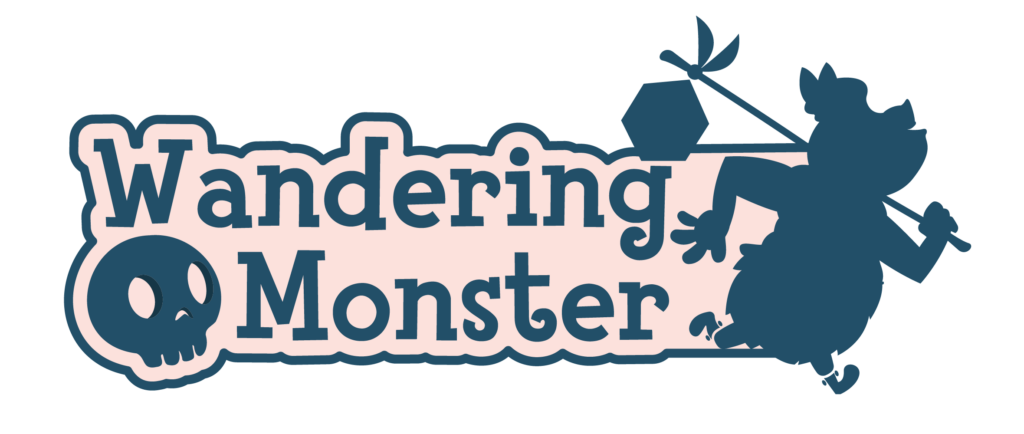 Wandering Monster
Phoebe Boyd '12
Virtual
Online Table-Top Role Playing Facilitation.
Have you ever wanted to try D&D with your friends but no one wants to be the Game Master? We can do that!
Do you have kids ages 10-18 who would want to play with other their age across the country? We can do that!
Want to battle a wizard or slay a dragon for your birthday party? WE CAN DO THAT!
Table-Top Role Playing games are excellent ways to practice imagination, empathy, and experience a variety of situations all from the comfort of your own home. We run public and private sessions and love sharing our passion for fantasy adventures with others. Our passion is with creating fun and exciting adventures to be experienced by people of all ages. No experience required.