Alumni board presidents talk benefits of service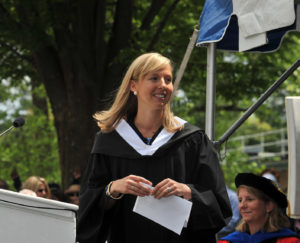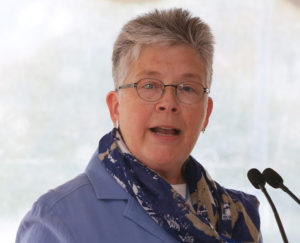 Leading Wheaton's Alumnae/i Association takes time, energy and talent, but when asked about their service, those who have done it talk mostly of everything they've gained.
Jane Martin '74 P'11 and Zoe Hack Keller '05—current and former presidents of the board, respectively—are passionate advocates for the college, and both say they have benefited immensely by giving back: making new, lasting connections; building leadership skills and policy chops; and having fun.
"I loved being the president. It really was one of the highlights of my life to date. It felt so good to give back tangibly to a place I really care about. I met the most wonderful people, and I found the work challenging, interesting and rewarding," said Keller, a health and nutrition coach and longtime Wheaton volunteer who served as president from 2012 to 2015.
Martin, whose three-year term will end in October 2018, said she is extremely honored to serve Wheaton as president and chair.
"Being a Wheaton alumna is, for me, a lifelong commitment. And one that I love," said Martin, a business owner and photo editor.
The board president's three-year term provides ample time to cultivate meaningful change at Wheaton while gaining personal and professional benefits, said Keller and Martin.
During her tenure, Keller worked on executing the Strategic Plan for 2014, which in part involved widening the circles of alumnae/i engagement and support, she said.
"We far exceeded our goals in this area and re-engaged a tremendous number of alumnae/i through these efforts," she said.
Serving as president helped Keller develop leadership skills and foster new connections—and friendships.
"I gained experience with board management, governance and internal politics. I also became more comfortable with public speaking after speaking at commencement, homecoming and other various alumnae/i events," she said. "I've enjoyed the camaraderie of other like-minded volunteers of all ages and backgrounds. It's a thrill to find that I've made new and lasting friendships."
Under Martin's leadership, the board has succeeded in helping grow alumnae/i engagement; restructuring to increase impact; improving transparency by publishing information on meetings and projects online (thanks to Deirdre Phillips '78, the board's vice president for strategic planning and governance); and developing a strong, working partnership with the Board of Trustees.
"Our five alumnae/i trustees—who sit on both boards—offer skilled and respected advice and leadership in both arenas," Martin said.
As president, Martin has worked to increase diversity on the board so it more closely mirrors the 18,000-plus members of the Alumnae/i Association. Also, she oversaw an initiative to rebuild the structure of the board, so members with similar backgrounds can accomplish specific tasks with more efficiency.
"Our goal is to establish fluid and flexible committees in order to take on projects and initiatives with a beginning, middle and end, with tangible successes," she said.
Martin also is working on engagement to fit everyone's different interests and lifestyles. "Instead of falling back on 'one size fits all' events, we are trying to find ways to engage new graduates" through Friday pub nights, parent groups, professional networking events, and ongoing opportunities for older alumnae/i.
"Being engaged as a volunteer has allowed me to remain an active part of the Wheaton community I knew as a student, and to meet an entirely new community of alums. It has been such a pleasure to serve on committees and boards with alums from other classes and build Wheaton relationships that span decades," Keller said.