November 8-10 & 15-17, 2007
Music by Marvin Hamlisch
Lyrics by Edward Kleban
Book by James Kirkwood & Nicholas Dante
Co-Choreographed by Bob Avian
Conceived, Originally Directed and Choreographed by Michael Bennett
Weber Theatre, Watson Fine Arts
CAST
Cassie

Trisha Carr '08
Sheila
Amy Breckenridge '08
Val
Margaret Wheeler '08
Diana
Danielle Ricci '09
Judy
Laura Peters '10
Kristine
Julie Forrest '10
Maggie
Katie Anderson '10
Bebe
Hilary Emerson '10
Connie
Marissa Bergman '11
Mike
Alexander Grover '09
Richie
Sam Von Ehren '10
Don
Kurt Adametz '08
Paul
Kyle Glass '11
Mark
John Schwartz '10
Greg
Patrick McCormick '10
Bobby
Austin Simko '09
Al
Daniel Hoffman '09
Zack (Director)
Chris Takemoto-Gentile '08
Lori (Assistant Choreographer)
Elise Barrar '10
Dance Ensemble
Lesley Backus '09
Sarah Griffin '11
Jossie Mar Diaz '10
Kayla Rack'10
Opening Ensemble
Roxy Azari '10
Heidi Bedard '10
Clara Bene '09
Zach Jackson '08
Lilia Delledone (TA)
Annie Laurie Malarkey '09
Jane McCarron '11
Becca Nash-Tempkin '10
Sofija Sutton '11
CREW
Director
Stephanie Burlington
Music Director
Tim Harbold
Choreographer
Christien Polos
Director of Dance & Rehearsal Coach
Cheryl Mrozowski
Assistant Rehearsal Coach
Joanna Barroll
Set Designer & Properties Manager
Nicole Beal '08
Technical Director, Lighting and Sound Designer
David Cook
Costume Designer & Design Advisor
Clinton O'Dell
Stage Manager
Sarah Joy '08
Assistant Stage Manager
Theresa Giannetti '10
Master Electrician

Ari Chiesa
Light Board Operator

Amy Hopkinson '09
Sound Board Operator

Chris Hart '08
Technicians
Amy Hopkinson '09
Zach Jackson '08
Thomas Ahern '08
Stacey Kronenberg '08
Brittany Hastings '09
Mia Khayat '09
Spotlight Operators

Megan Peterson '09
Megan Tibbs '09
Riggers
Thomas Ahern '08
Jake Yagjian '08
Deckhands
Laura Gonzalez '08
Zach Jackson '08
Wardrobe
Mia Khayat '09
Hair
Meghan Kenny '08
Costumer
Kim Bellush '09
From the Director…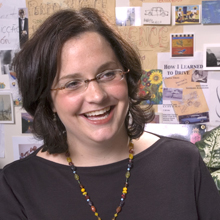 I have loved this play for a very long time. As a young girl, I remember listening to "At the Ballet" and dancing around the living room on my father's feet dreaming myself a ballerina; as a young teenager, lying on the floor with the album cover listening to the music for hours drawn in by the music and the fantasy of being on Broadway; as a brand new driver, alone in my car for the first time singing at the top of my lungs Morales? "Nothing". All along, I felt like I knew who these people were and felt deeply connected to their desire for acceptance and to be heard. My dream was their dream, to be a triple threat and on Broadway. Triple threat: one who can sing, dance and act, excellently. Eventually, I knew this would not be the case. In dance class, I was always going left when the rest went right, looking down instead of up, backward instead of forwards. I knew I would never really be in A Chorus Line, but somewhere along the line it became my dream to direct this amazing collage of story, dance and song. A story of risk, creation, and sacrifice.
It takes guts and bravery to be in show business. It takes a bit of insanity, as well. Try and imagine a career where rejection is not a bad day, but a known quantity to rely on each week. A young alumna who is currently making it work as an actress in New York City told me recently that if she has 6 auditions in one week and gets rejected at each one, she has to believe that these rejections are not failures, but seeds planted for future projects. That is the perseverance and commitment exemplified in each one of the characters in A Chorus Line. We, who are in this crazy theatre making business, do it out of necessity, because there is nothing else that drives us and feeds us in the same way.
The departments of Theatre Studies, Dance and Music get the chance to collaborate on musical theatre every several years at Wheaton in thanks to an endowed gift made by alumna Deby Glidden, class of 1968. Because of this gift we have been able to bring together an amazing team of designers, choreographers, musicians, and a very special group of talented students. These students have sung when they thought they couldn't, danced through tears and physical pain, and committed hours in and outside of rehearsal to make this play come to life. They have made my dream of being in this play come true and I will always be humbled by their professionalism and inspired by their desire.
We are thrilled this year to share with you our updated and modernized version of this play. I like to call it A Chorus Line, Wheaton College, 2007.
-Stephanie Burlington
From the Director of Dance…
I first saw A Chorus Line in the west end of London while I was still dancing in England in 1975. I was so jazzed that I thought of leaving the world of ballet to become a chorine but cooler heads prevailed and I completed my teaching qualifications for the Society of Russian-Style Ballet Schools. I always went to every production of A Chorus Line and managed to see it in DC and New York and always loved it. The fact that we are now doing it at Wheaton College has me jazzed all over again!!! It is a wonderful show that allows the audience insight into the life of a professional dancer. The show has a heart and soul but most of all it is about hope. Hope that a dancer will work so he can eat, and share his story and passion with those people around him.
Working on this show has been exhilarating for myself and the dancers. It has expanded our process while we work, and we are actually singing and acting and dancing. We are learning how hard it is to do all of this at the same time and have great respect for the singers and actors. It has also helped us to cross artistic lines and reach out and try new venues. Our dancers have signed up for directing classes as well as acting courses and we are excited about the cross-fertilization. The energy produced during rehearsal is why we chose this show with this cast and why we are proud to be doing, A Chorus Line at Wheaton College.
-Cheryl Mrozowski
A special thanks to the Deby Glidden Class of 1968 Endowed Fund for making musical theatre possible at Wheaton College.