Curating the Kilham Basket Collection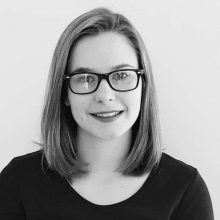 Alivia Cross, Class of 2019, has worked as a Collection Assistant since her first semester on campus. A Theater & Dance studies Major (Technical/Design Track) with a minor in Psychology, Alivia also has a strong interest in the history of the Wheaton and of the Permanent Collection. This is due, in part, to her family's friendship with Carlton Russell, Professor of Music & College Organist Emeritus, and his wife Lorna Russell, Class of 1964. The Russells lived on campus for many years before moving to Maine, where Alivia was born and raised; and they have also donated several prints to the collection.
In November 2016, Zephorene Stickney Helmreich, College Historian & Special Collections Curator, found a B&W photograph dating to 1953. It featured Professor Paul Cressey, of the Sociology Department, leading a class in which students examined Native North American baskets. Leah Neiderstadt, Assistant Professor of Museum Studies & Curator of the Permanent Collection, asked Alivia to curate a mini-exhibition featuring the baskets, which are now part of the Permanent Collection. Over the course of a semester, Alivia identified the baskets shown in the photograph and conducted archival research on Professor Cressey and Dr. Eleanor Bridge Kilham, Class of 1876, who donated the baskets and related objects to Wheaton. She designed a display for the baskets and then installed them in cases near Ellison Lecture Hall. Alivia also wrote interpretive text to help viewers learn more about Dr. Kilham, her collection, and its use on campus; and she created an online version of the display so people unable to visit campus could learn more about Dr. Kilham and her collection.