"Rocket Sleigh" Takes Off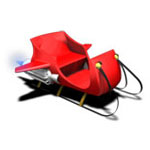 "Rocket Sleigh", a new original Christmas overture for orchestra by Asst. Prof. Delvyn Case, is on its way to becoming a new holiday favorite among audiences and orchestras across the country.
Since 2009, Rocket Sleigh has been performed by over 25 orchestras from Alaska to Florida to Maine, including by the Louisville Orchestra and San Antonio Symphony. In December 2011, the Portland (Maine) Symphony will be performing it on all 11 of their "Magic of Christmas" holiday concerts, which is one of the most extensive holiday concert series in the country. In addition, Prof. Case's band transcription of the piece will be premiered in December 2011 by the Dallas Wind Symphony, the most prominent professional wind ensemble in the country.