Welcome Patrick Johnson, Assistant Professor of Filmmaking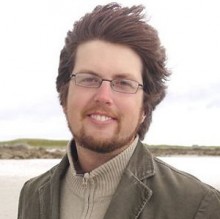 Patrick Johnson is a documentary filmmaker who combines digital media with the documentary tradition, creating short films that focus on artists, musicians and alternative lifestyles. His work has screened in art galleries, at prominent film festivals such as SXSW, the Woods Hole Film Festival, and DocFest, and has been featured in renowned culture blogs, such as BoingBoing.net. He received his MFA in Film Production from Boston University in 2010 and his BA in Film from Vassar College in 2001. In between those periods, Patrick worked as an editor on several feature films, most notably the documentary The Treasures of Long Gone John. Additionally, he produced and edited a variety of short form projects including commercials, short films, popular web shows, and additional content for the DVD release of the Sundance Award winning film, The Devil and Daniel Johnston.
Patrick has taught film and video production at both introductory and advanced levels at Boston University and Tufts University. At Tufts University, he developed and taught a series of original classes including First Time Filmmakers, YouTube Culture, Digital Storytelling, and New Media Practices. In all of his classes, he aims to bridge the gap that often exists between theory, history, and production.
This fall, Patrick will teach Production I, an introductory film and video production class where students will learn to write, shoot, direct, and edit a number of short films in which dialogue is prohibited. Additionally, he will teach Screenwriting, where students will learn the fundamentals of writing for motion pictures of all lengths, including two-minute online videos, ten-minute short films, episodic television, and feature films.
To learn more about Patrick's work, visit his Vimeo profile or follow him on Twitter.