Ghadessi Fleming lends her insights to Discovery News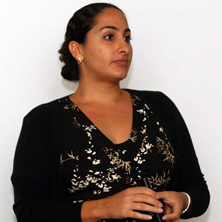 Professor Ghadessi Fleming was recently interviewed by Discovery News, because of her work on Cosimo I de'Medici's favorite dwarf, Morgante. Bronzino's 16th-century Portrait of Dwarf Morgante is currently the centerpiece of the exhibition "Bronzino: Artist and Poet at the Court of the Medici" at Palazzo Strozzi in Florence, Italy, until January 23, 2011.
Ghadessi Fleming has been researching archival documents to understand the liminal position of human monsters in French and Italian courts of the Renaissance. Morgante plays a central part in her research as he is mentioned in epistolary correspondence, as well as in inventories and account books. The newly restored double-sided portrait of Morgante by Bronzino highlights the dichotomous positions of many court dwarves: while they were seen as objects of curiosity and were collected as such, they also benefited from the court's social, financial, and educational aspects, thus becoming inherent subjects of the court that collected them.