R. Tripp Evans Receives the 2010 Marfield Prize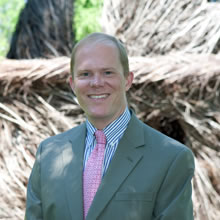 R. Tripp Evans receives the 2010 Marfield Prize, National Award for Arts Writing for Grant Wood: A Life (Alfred A. Knopf: 2010).
The $10,000 award is unique in the world of publishing, and is one of the country's largest literary prizes given to a single author. Mr. Evans, a professor of art history at Wheaton College in Norton, Massachusetts, will present a reading from Grant Wood: a Life at the Arts Club of Washington on Wednesday, May 11, 7:00 pm at 2017 I Street, NW, Washington, DC. Mr. Evans will also be honored on Thursday, May 12 at the formal awards dinner.
The 2010 award judges are poet and director of the African American Resource Center at Howard University, E. Ethelbert Miller, New York Times and international bestselling novelist, Katherine Neville and Michael Martone, professor of English and the director of the Creative Writing Program at the University of Alabama.
For the 2010 award, Miller, Neville, and Martone selected Grant Wood: a Life by R. Tripp Evans from finalists Charlie Chan: The Untold Story of the Honorable Detective and his Rendezvous with American History by Yunte Huang (W. W. Norton & Company), Girls to the Front: the True Story of the Riot GRRRL Revolution, by Sara Marcus (Harper Perennial), The Advance Man by Jamie MacVicar (Bear Manor Media),  seventy books by  Arts Club members from various art disciplines.