Shane Nichols '13 and Matthew Cesario '12 pursue MFAs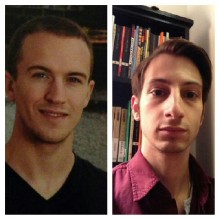 Shane entered the MFA program in Creative Writing at Emerson College in Fall 2014. After graduating from Wheaton, he took a year off to travel and prepare for graduate school. Shane resides in New England, splitting his time between Boston and Maine.
Matthew is pursuing an MFA in Dramatic Writing at New York University, Tisch School of the Arts.  At Wheaton his focus was on fiction writing. After graduation he wrote his first serious play. The next year he applied to NYU with the play he'd written. He began the program in Fall 2014. He expects to earn his MFA in 2016.