Professor Foley Unites Poets July 28-Aug 2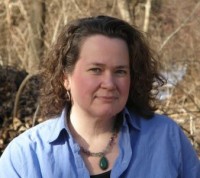 For the fourth consecutive summer, Professor Ruth Foley is organizing and participating in the Connecticut River Advanced Conference on Poetry and Poetics in Chester, CT (usually simply called "Chester"). Born from a desire to grow as poets and educators, and based on the pedagogical underpinnings of The Frost Place, which emphasizes our poetic roots through the discussion of individual poems as part of a larger canon, the conference allows attendees to participate as teachers and as poets: all the poets at the conference lead workshops, present a craft talk, and give a reading of their own work.
Professor Foley's talk this year focuses on Thom Gunn's "Troubadour," a series of poems written in the voice of serial killer Jeffrey Dahmer. She and the founder of the conference, poet Nancy Meneely, have also begun work on an anthology of essays and poems born from the conference. Currently untitled, the anthology will include essays on craft and pedagogy, as well as a guide for other poets and artists to use to create similar conferences. Participants from the conference are at work writing essays individually and in collaboration, and the book is expected to go to press in early 2015.