Creative Writing Major Erin Cotton '16 Shares Publication News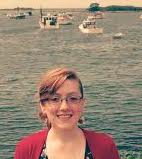 Fall semester last year I took a fiction writing workshop with Professor Bryant. We learned how to write flash fiction, a full story in less than one page. I submitted three pieces that I wrote in this class to the Albion Review based out of Albion College in Michigan.
One is about a father and daughter who are taking a canoe trip down the Saco River in New Hampshire. The daughter, constantly trying to deal with her father's disappointment, catches a fish for the first time. Unfortunately, her father wakes up after the fish has escaped back into the water. The other story is about a father and son who hike up Mount Washington. It's a fast pace story focused on grounding the story in a specific time and place. The boy makes it to the top, 5000 ft up, and can see three different states from where he stands.
I submitted these stories to the Albion Review and heard back a few months later that they planned to publish them in the 2014 edition that should be out soon.