Maria Cabral '12 at the Feminist Boot Camp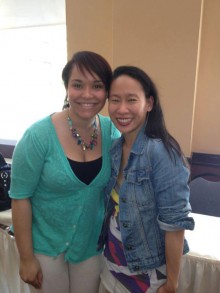 Wheaton Alumna and Women's Studies major Maria Cabral spent the first week of her summer in New York at the Feminist Boot Camp summer session. Where she had the opportunity to visit various women's organizations in the NYC area, and met tons of amazing feminists including Gloria Steinem, Stacey Tisdale and Shelby Knox. Maria spent the week making site visits and engaging in discussions about women's issues and feminist careers. She is now part of the Feminist Bootcamp alumni network, and will get invited back every session for reunions.
When she returned from New York she went right to work at the Big Sister Association. Maria says "I love this organization and how passionate everyone is helping provide supportive mentor-ship for young girls all over the Greater Boston area." Aside from her work at the Big Sister of Grater Boston, Maria is preparing to take the LSAT's in October. She is interested in pursuing a joint M.S.W/J.D. program working specifically with adolescent girls and children.