Service Sociology and Academic Engagement in Social Problems
Edited by A. Javier Trevino and Karen M. McCormack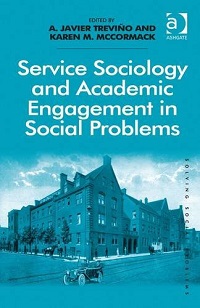 This new book challenges sociologists and sociology students to think beyond the construction of social problems to tackle a central question: What do sociologists do with the analytic tools and academic skills afforded by their discipline to respond to social problems? Service Sociology posits that a central role of sociology is not simply to analyze and interpret social problems, but to act in the world in an informed manner to ameliorate suffering and address the structural causes of these problems.
This volume provides a unique contribution to this approach to sociology, exploring the intersection between its role as an academic discipline and its practice in the service of communities and people. With both contemporary and historical analyses, the book traces the legacy, characteristics, contours, and goals of the sociology of service, shedding light on its roots in early American sociology and its deep connections to activism, before examining the social context that underlies the call for volunteerism, community involvement and non-profit organizations, as well as the strategies that have promise in remedying contemporary social problems.
Presenting examples of concrete social problems from around the world, including issues of democratic participation, poverty and unemployment, student involvement in microlending, disaster mitigation, the organization and leadership of social movements, homelessness, activism around HIV/AIDS and service spring breaks, Service Sociology and Academic Engagement in Social Problems explores the utility of public teaching, participatory action research, and service learning in the classroom as a contribution to the community.