Putting Your Major to Work: An Interview with Orly Clerge '05
By Hannah Dalglish '16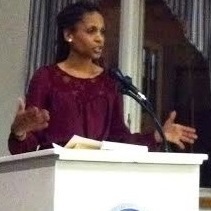 "Put your major to work. It's incredibly important to invest in your experiential education. Volunteer, do internships, co-teach a class in your major."
This message is what I heard as a sophomore Sociology Major from Orly Clerge (Class of 2005) at the annual Senior Symposium in February 2014. When she was a student at Wheaton, Orly said she frequently used the career center to find internships, sought out opportunities to get involved in faculty research projects, and pursued a studying abroad experience. She said, "luckily I had two opportunities to conduct social research — Jamaica and Senegal." In her view, "cross-national research is incredibly important for sociologists so that they gain an understanding of how societies outside of the U.S. function. Globalization mandates that today's students understand that the world doesn't evolve around American culture."
An alumna of Wheaton College, Orly majored in Sociology and French and graduated in 2005. She then went to Brown University where she earned her doctorate in Sociology with a concentration in Social Demography. She is currently a postdoctoral fellow at Yale University's Institute for Urban Ethnography, a project led by the renowned sociologist Elijah Anderson. From this fall 2014, she will teach at Tufts University as an Assistant Professor.
A child of Haitian immigrant parents and raised in Brooklyn, New York, Orly was exposed to sociology at an early age, though she did not then know the language to describe her rich and multifaceted experiences. It is as a college student at Wheaton that she discovered sociology and its theories and methodologies about how we understand ourselves, others, and about social action in everyday life. If someone decides to become a student of sociology, she said, they will inevitably learn about inequality, social justice, race, gender, sexuality, and other related social issues. Given her transnational and immigrant experiences — as well as being a Posse II Scholar at Wheaton — issues on class, race and ethnicity spoke to her personally and 'naturally' resonated with her.
She emphasized the importance of fieldwork, research, theory, and studying statistical analysis. Orly thanked and gave credit to her mentors and professors who provided her with the sociological tools to succeed. I can attest to the fact that Wheaton provides students with fantastic faculty as teachers and mentors. As a sophomore sociology major, I am finding that the Sociology Department cultivates close ties between faculty and students to enhance our learning. Meeting with and hearing from an alumna, Orly Clerge, made me feel confident that the department of Sociology here at Wheaton challenges its students in ways which force them to grow academically and personally, in promise of a bright future.