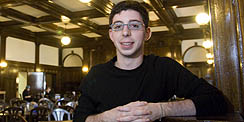 Activities? When I am not in class, I am the Treasurer for the Student Government Association; a columnist for the Wheaton Wire; a member of the Roosevelt Institute; and one of two students on the Sustainability Steering Committee.
Favorite class? Of all the courses I've taken so far, my favorite class would have to be my English 101 course with Professor Stenger. With his dry humor and clever teaching style, Stenger was unquestioningly instrumental in drastically improving my writing skills, always challenging me to try even harder on making my writing more complex.
Something interesting about me? Over the past four years, I have been an active member of the charity known as "Labels Are For Jars." This charity is based out of Lawrence, Massachusetts and supports the Cor Unum Meal Center, which is a not-for-profit meal center. They provide free, nutritious meals in a safe environment to anyone who is in need of food, regardless of race, color, creed, sex, or way of life. I've collected $110, one penny at a time over the past eight months with a goal of reaching $200 by the end of December of the current year.
Most memorable news story? President Obama's election back in November 2008. I will always remember that I played a role, no matter how small, in moving this country forward by transcending racial lines to vote for our very first African-American President.