US Middle East Policy in the Age of Trump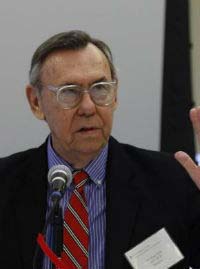 Dr. Gary Sick, Senior Research Scholar and Professor of International Affairs at Columbia University, will speak at Wheaton on the subject of US Middle East Policy in the Age of Trump.
Wednesday April 12, 2017 5:00 PM
Holman Room, Mary Lyon Hall
A Public Lecture Presented by the Middle East Student Club and Department of Political Science
Dr. Gary Sick served on the National Security Council staff under Presidents Ford, Carter and Reagan. He was the principal White House aide for Iran during the Iranian Revolution and is the author of two books on U.S.-Iran relations, in addition to several other edited books and articles dealing with U.S. Middle East policy. Dr. Sick is a captain (ret.) in the U.S. Navy, with service in the Persian Gulf, North Africa and the Mediterranean. He is a member (emeritus) of the board of Human Rights Watch in New York and the executive director of Gulf/2000, an international online research project on political, economic and security developments in the Persian Gulf.