Marielle Thete '16 interns on Capitol Hill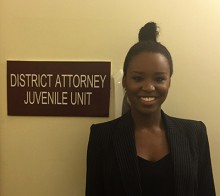 Marielle Thete is a graduating senior double major in Political Science and International Relations, and will be interning with Senator King's Office on Capitol Hill this summer.
In Spring 2015, she was selected as the student representative for her home state, Maine, at the Edward M. Kennedy Institute for the United States Senate Chamber Dedication Ceremony, newly established in Boston. In attendance was President Obama, Vice President Biden, numerous members of the Kennedy family and distinguished elected government officials, including Senator Angus King, with whom she will be interning this summer.
During her time at Wheaton, Marielle has been an active member of SGA as class representative and class secretary. She also worked as a Residential Advisor and writing tutor since her sophomore year. This year she was selected to work with Professor Bradford Bishop on a research project that involved analyzing advertisements from previous senate campaigns.
During the fall of her junior year, she studied abroad in Morocco through SIT, in a program that focused on Migration and Transnational Identity. Last summer, she interned at the Cumberland Country District Attorney's Office.
Marielle is very excited to move to interning with Senator King as it will prepare her for her career interest. She hopes to remain in the DC area for at least two years after this opportunity to gain some experience prior to pursuing her masters in diplomacy or international relations and a law degree. She believes that this internship would be an ideal next step on her journey in the international political realm and will especially prepare her to be a better-rounded candidate for immigration law and/or diplomacy. Her long-term goal is to use those professions to implement development work in African societies.