Honor society established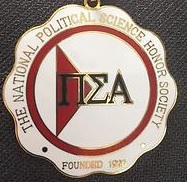 In the Spring 2015 semester, the political science department (at long last) established the Alpha Iota Tau chapter of Pi Sigma Alpha, the political science honor society. Eight political science majors–Alex Butcher-Nesbett, Melanie Collins, Sam Hammond, Ariella Levine, Alexandra Marlow, Khadim Niang, Myra Parsonnet, and Courtney Sitzman, formed the first class of inductees. Professor Jeanne Wilson serves as the chapter adviser.
Professor Darlene Boroviak, Gabriel White, Victor John and Courtney Gilman.
Thanks to the initiative of Victor John and Gabriel White, a chapter of Sigma Iota Rho, the international relations honor society, has been established at Wheaton College. The first initiation ceremony was held on May 14, 2015 inducting Courtney Gilman, Victor John and Gabriel White into the society. Professor Darlene Boroviak conducted the initiation.