Melissa C. Barón: Univision Networks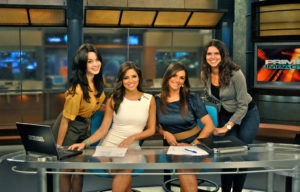 All right, so I have three months off from college to spend the summer in my beautiful sunny hometown Miami, Florida. Those who know me very well know I do not like to pass my days doing absolutely nothing that isn't productive. So of course, I applied for a summer internship! As soon as Univision Networks, the number one Spanish-speaking television station in the country, accepted me, I of course had another plan in mind. I needed to get summer funding so I can get the most out of my internship experience. Consequently, I applied to be a Wheaton Fellows Scholar and was granted the award!
Being a second generation Hispanic and working alongside people of my culture/background has shown me to pride on my Hispanic roots. The staff and team of Al Punto have made sure to teach me as much as possible about working with the show in a 3-month period. I did not feel like an intern rather more like the producer's assistant. I assisted in brainstorming sessions for the show, learned how to produce the show's headlines, hosted the guests on show days, archived/ dubbed tapes, and also participated in breaking news reports. The networking opportunities have been immense and helped me further on in my future.
There truly is a difference in learning when classroom learning and hands on learning styles are integrated. Together, these two learning styles do not only create a lesson but also an experience, an experience nobody can ever take away from you. I feel honored to be a Wheaton Fellows Scholar for Summer 2011 and to have been given the opportunity to intern at one of the top television stations in the country. Thank you, thank you, thank you for this unforgettable opportunity.
"Dream big, work hard and stay humble." César Code, President of Univision Networks