In Memoriam: Professor Jeanne Whitaker
On October 22, family and friends of Jeanne Theis Whitaker, a longtime member of the Wheaton College French Department (1965-1999), gathered in the Quaker Cemetery in Prospect Park, Brooklyn to share readings, personal memories, and intern her ashes. Professor Whitaker passed away in October 2021 at the age of 95. Her son, Paul Whitaker, and Gretchen Ellis '69, her former student, share the following in her memory:
Born in the former French African colony of Cameroon, where her French father and American mother were Protestant missionaries, Professor Whitaker was raised in Madagascar and Wooster, Ohio before the family moved to France when she was eight. Her father became assistant pastor in the small mountain village of Le Chambon-sur-Lignon where he co-founded and was the first director of a secondary school called le Collège Cévenol. He and Pastor André Trocmé – both pacifists and already members of the International Fellowship for Reconciliation (IFOR)—organized the community to hide many Jews from the Nazis for which they were later recognized at Yad Vashem as Righteous Among the Nations. Jeanne, who with five of her seven sisters had been sent to the United States for the duration of the war, only learned of her parents' activities when reunited with them afterwards.
Professor Whitaker spent the war years in Swarthmore, PA, living with friends of her family. She earned her BA at Swarthmore College, and, after graduating in 1946, she attended Bryn Mawr College, where she taught French and later earned her Ph.D. in linguistics and literature for her thesis on "Poetic Movement in Les Fleurs du Mal". Returning to Swarthmore College in 1950 to teach French for over a decade, she met Cleophaus Sylvester (Syl) Whitaker, an African-American Quaker who was acting in a play she was directing. In spite of the era's rigid color barriers, they were married in 1956 and had two sons, Mark and Paul Whitaker.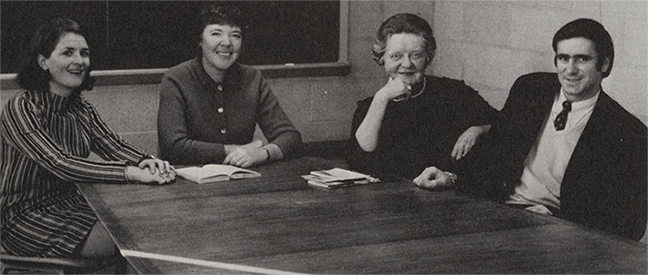 French Department, 1969: M. H. Sullivan, J. Whitaker, M. L. Libby, and C. R. Blanc
After living for a few years in Princeton, NJ and Los Angeles, CA where her husband was a professor at the time, she moved back to Swarthmore when her marriage unfortunately ended. Recruited by William Prentice, then president of Wheaton College, she attained a permanent teaching position on the Wheaton College faculty in 1965. From that date until her retirement in 1999, Professor Whitaker was a well-loved member of the French department, always willing to give extra help to any students who might need it, while maintaining high standards and managing to quietly impart her great love of French literature and especially poetry to generations of Wheaton students. Jeanne often told how she had become a feminist while at Wheaton where she loved encouraging female students and colleagues. In 1985 she was excited to serve as a delegate to the Third United Nations World Conference on Women in Nairobi.
Her activities were not limited to teaching. She loved to cook a variety of delicious foods and was an avid consumer of the news, books and periodicals. During the time she was at Wheaton, she was a very active member of the Friends (Quaker) Meeting in nearby Providence, RI. She actually helped set up a branch of the American Friends Service Committee there. After leaving Norton in 1999 Jeanne lived in Providence until 2011 when she moved to an independent-living community called Kendal-Longwood in Kennett Square, PA, to be in a community of Quakers as well as with her good friend Trudy, whose family had taken her in during the war. She was a devoted sister, mother, grandmother, aunt and friend to many who loved her. And she was excited about the recent arrival of her first great granddaughter.