Screening Room: Filmmaker in Residence Film about 2022 Trip to Spain and Morocco
Each summer, Wheaton College offers several Filmmaker in Residence Fellowships that fund students to travel with faculty-led international courses and produce films about the experiences and issues being studied. In the summer of 2022, Film and New Media Studies major Norah Laoui '24 was awarded a fellowship to travel to Spain and Morocco with Montserrat Pérez-Toribio and Leah Dyjak for the course, Islamic Spain: Water, Fences, Expulsion, and Migration. We are excited to present the finished film.
Norah recently spoke with Film and New Media Professor Patrick Johnson about the trip.
Patrick: Please tell me a bit about the film/project you filmed in Spain.
Norah: My film is a narrated overview of our 3-week study abroad trip to Granada Spain as we
learn the hidden history of Islamic Spain (also known as Al-Andalus) current day Andalusia. My
film discusses how our travels to museums and historical sites as well as other cities in Spain
and Morocco helped us better understand the legacy left. My film also briefly discusses how our
conversations in the classroom and on our trips connected the history of Islamic Spain to
current day topics like the migrant crisis in the Mediterranean Sea and the current politics in
Spain.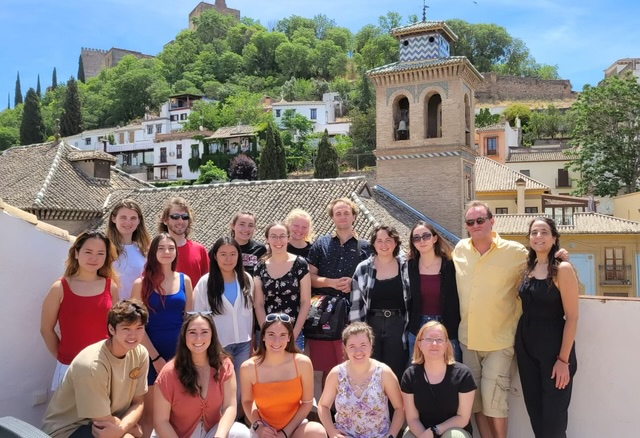 What was an important lesson that you learned from the experience?
Through this film I really worked on my documentary/travel filmmaking skills which is
something that I have always wanted to explore more of. I also learned how to balance being
present during all the aspects of the trip with my job as the filmmaker on the trip. Being more
present in both the trip and in my filmmaking, helped my film idea change, evolve, and take on a
new and different shape than what I had originally planned which in the end worked in its favor.
What were some of the challenges of filmmaking in Spain?

A big challenge was making sure I was filming enough footage as well as making sure the quality of that footage was good and added a new element to my film. The trip itself was very fast pace, and with that, I had to film at a faster pace. I was a little overwhelmed by the pace I needed to film at. But with the skills I had learned from the range of different film classes I had taken, I was able to adapt and reform a plan that worked better with the fast pace of the trip.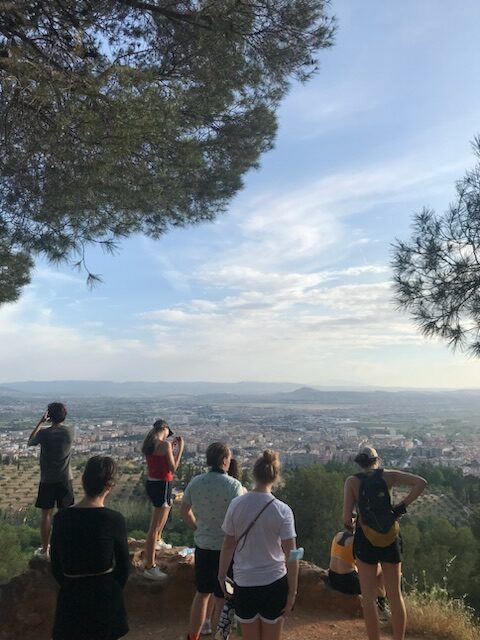 What was a standout moment that you were able to capture?
I would say the standout moment for both filming and as a person on the trip would be
the trip to The Alhambra in Granada. Words could not describe how beautiful and detailed the
art and architecture were. Walking around and touring the palaces created such beautiful
camera shots, I actually used a whole SD card just for that day. I made sure to capture wide
shots to show the grandeness and scale of the buildings and pairing that with close-up shots of
the hand-carved art and writing on the walls of the buildings.

What is the next step for the project and in your journey as a filmmaker?
This film was a really great opportunity to show my on-the-fly filmmaking skills which is
great for documentary storytelling as well as my skills in finding creative camera shots with
what's in front of me. This film is another film I get to add to my film portfolio which needs more
documentary-focused films.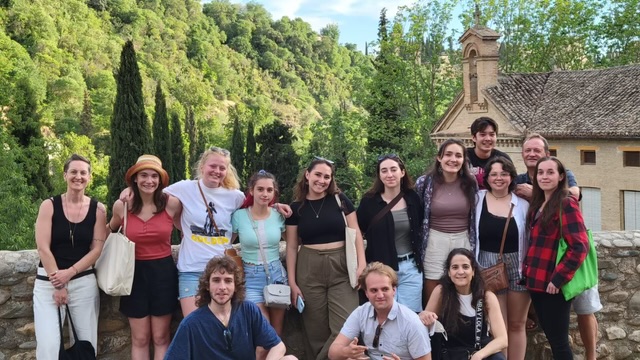 What is something that you would love people to know about the experience?
I would love that after people watch my film they walk away with a new perspective and
learned more about the amazing history of Islamic Spain and how that connects and impacts to
current day Spain and the world as a whole.