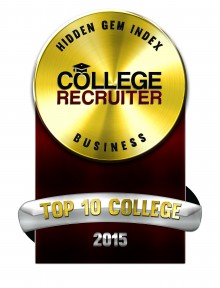 Wheaton College has been named a "hidden gem" for employers looking to hire business majors, according to College Recruiter.
The company, which helps connect recent graduates and current college students to jobs and internships, ranked Wheaton as No. 1 on its list of Top 12 Hidden Gem Colleges for Employers Hiring Business Majors.
The Hidden Gem rankings acknowledge colleges and universities that offer a high quality education but that may get overlooked by traditional lists.
"The modeling for this hidden gem school project was to identify the schools which featured high SAT/ACT scores for entering students, high average starting salaries for the regions in which the schools were located, a high percentage of graduates working in their chosen field of study and a majority of the graduating class available for recruitment by employers," according to College Recruiter.
The lists, created with the help of data scientists, are designed to help employers know which institutions to target when seeking high-qualified individuals.
In addition to Wheaton, the top five institutions featured on the Hidden Gem for Business Majors list include Lehigh University, Brigham Young University-Provo, University of Miami and Bentley University.