Gorgeous Greenhouses Built for Learning
Jane Young, Greenhouse Caretaker, is thrilled about the gorgeous new Greenhouses atop the Mars Center for Science and Technology. She shared some highlights with us:
a Temperate Room has joined the existing Desert and Rainforest environments;
growth chambers and a 407 sq. ft. Research House with automatic shade curtains support student work;
advanced control panels monitor cooling, heating, HPS lights, shade, ventilation and humidity;
an alarm system alerts Public Safety to power outages or temperature extremes; and
a rooftop weather station automatically closes vents in case of wind and rain.
Why not stop by and admire this amazing facility for yourself? Jane welcomes visitors during her Greenhouse Open Clinics.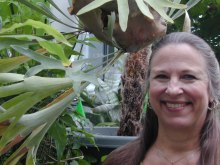 JANE YOUNG
Greenhouse Caretaker
Jane loves introducing the community to Wheaton's beautiful new greenhouses.
Mark your calendar for her next Greenhouse Open Clinic on Friday, December 9 from 11am-2pm. Visitors will be able to wander around the greenhouses at their leisure–and even bring plants in need of repotting.
By Colleen Wheeler