"Poinciana" variations, a piece for string quartet
I am Jackson Reed ('21, music and computer science), and this semester I composed a piece of music for string quartet as my final project for professor Del Case's composition class. In this class, each student composed a "theme and variations"—that is, a piece comprised of contrasting sections that are all based on a single, central theme—using a borrowed theme. The practice of varying another composer's theme extends back centuries to the work of Beethoven and others; in our case, the borrowed theme would serve as a seed of inspiration and a basis on which to practice various techniques. We were allowed to work in whatever style suited us, as the principles we learned were broadly applicable to all sorts of music. As a student and enthusiast of jazz music, I chose the Nat Simon song "Poinciana", now a jazz standard, as the theme for my piece, titled "Poinciana" Variations.
"Poinciana" Variations consists of a straightforward presentation of the theme followed by five variations setting the theme in various contexts. These variations mainly draw inspiration from different styles of jazz and 20th-century music. For example, the first variation borrows some rhythms and textures from Latin jazz, and the second variation uses the "whole tone scale" that was prevalent in the work of Claude Debussy. One of the essential takeaways from the course was balancing variety and unity, on the small and large scale; each passage of music, each variation, and the piece as a whole should sound coherent, repeating and developing recognizable ideas, but new ideas must be introduced at a reasonable pace to keep the listener's attention. With this in mind, I wrote stylistically diverse variations but also introduced some unifying, recurring motives. The original theme appears in some form in each variation, but it is always modified or recontextualized in some way, often via "reharmonization"; this is the technique of altering the harmony that accompanies a melody without changing the melody itself, so that it sounds at once familiar and unfamiliar.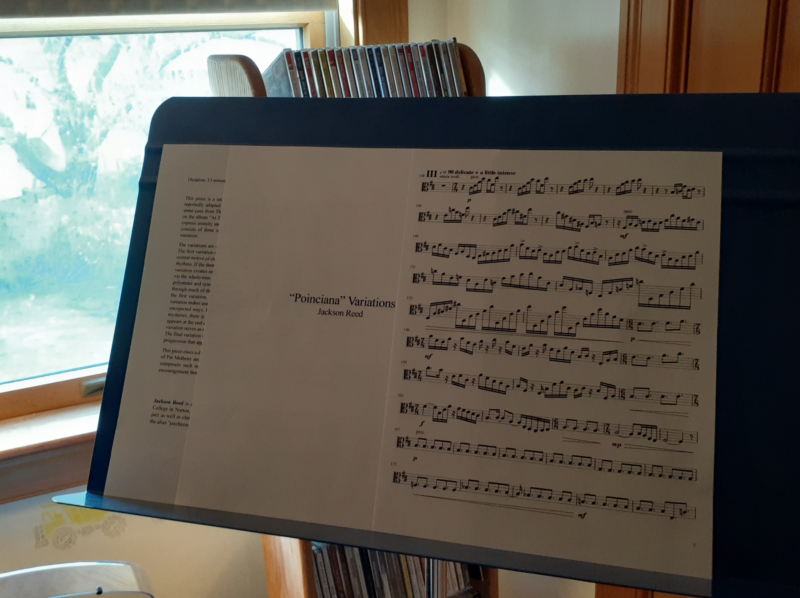 This course came with the unique opportunity of having the Sirius Quartet, a NYC-based professional string quartet, perform our pieces on campus. As a violist and fan of chamber music, I was pleased by the chance to work in this format; but the promise of having my piece performed by such talented players was thrilling and far beyond my expectations, and it motivated me to turn in the best work I could. Though the on-campus concert was ultimately cancelled, the quartet intends to hold workshops with us remotely and, when possible, record a performance of our pieces.
Our class sessions in the latter half of the semester mostly consisted of listening to each other's pieces and workshopping them as a class. The weekly feedback that I received from my peers was valuable and encouraging, increasing my confidence in the best parts of my piece and helping me identify oversights and missed opportunities elsewhere. It was also inspiring to follow the development of everyone else's work from beginning to end over several weeks, and their enthusiasm and motivation enhanced mine in turn. I am grateful for the opportunity to work with them as well as professor Case, who often made his feedback on each student's piece into valuable lessons for the whole class.
Since I enrolled at Wheaton and declared the music major I have looked forward to taking to this class; though I learned much as a composer by informal experimentation and listening, I am sure I would be unable to create a work such as this, a large-scale one from which I can derive great confidence and pride, without support from faculty and peers at Wheaton. I look forward to learning and growing as a composer even more in my senior year.