(Personal) Space: The 2021 Visual Art Seniors Exhibition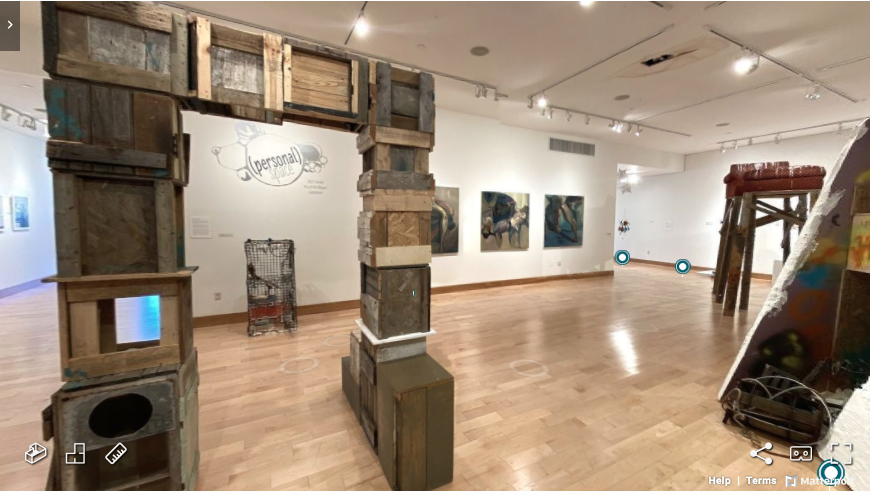 Each year, the senior cohort of Visual Art majors completes a year-long capstone experience that culminates in a high-quality group exhibition in the Beard and Weil Galleries at Wheaton College. Students engage deeply in personal and academic research in the preceding fall within the structure of a course entitled Independent Practice. In this course, students explore, experiment, interrogate, and iterate their way through the development of individual artistic vocabulary (visual and written) and discover the media, processes, and content they will refine in the spring.
In their final semester at Wheaton, through the framework of their Senior Seminar, the artists complete a cohesive body of work in their chosen media. They engage with all aspects of mounting a professional exhibition from concept and design of promotional materials to the layout, installation, and lighting of artworks in the galleries. During the pandemic, remote students worked with on-campus peers virtually during layout and installation.
The exhibition is always a thrilling ride and popular among visitors. The exhibition's title this year, (Personal) Space recalls the "collective isolation" brought on by the global pandemic during which we are together yet distant, private yet public as we attend meetings and classes from our homes. The exhibition this year showcases wonderful paintings of domestic interiors, cloudscapes, and magical spaces. There is fantastic animation, colorful drama, emotional grayscale, architectural-scale sculptures, humor, sadness, and hope.
The 2021 Senior Visual Art Majors Exhibition opens virtually on April 27th at 7pm.
On-campus community members may visit the exhibition thereafter during gallery hours.