Global Honors: The Power in 3: Celia Cruz, Selena and Rosalía and New York City, Miami and Cleveland
For the public aspect of my Hispanic Studies senior capstone, we presented our posters in the Faculty Dining Room in Emerson Dining Hall.
Amber Medero
Pronouns: She/her/hers
Majors: International relations and Hispanic Studies
Class of 2022
Global Honors
Nominated by Professor Fernández de Alba
Assisted by Professor Tierney-Tello and Professor Sarhan
What is the Global Honors Program?
The Global Honors program is a rigorous track that strives to offer students a global perspective through engagement with and a deep study of cultures outside of the United States. It consists of achieving advanced proficiency in a foreign language, excelling in five non-U.S centered courses, studying abroad or writing a 10,000-word global project, and writing a 1,300-word reflection about how home has changed in light of your global experiences.
Why did I Choose to Pursue the Global Honors Program?
Naturally, given my majors, I completed the first two requirements before I even knew about the new honors program. Being a Hispanic Studies major, I have demonstrated advanced proficiency in the Spanish language. As an international relations major, I have taken a number of global courses specifically related to politics and excelled in them all. For the global project, I used my Hispanic Studies senior capstone and wrote a summary of it in English sharing my thought process, inspiration, findings, and goals for the project. As for the reflection, I had already lived through a number of global experiences and wanted the opportunity to reflect on the impact it had on me. It is important for me to get Global Honors because it would almost be silly not to. I had all the work, experiences, and thoughts, and all I had to do was to put them in words.
My Global Project: The Pioneer Women of Latin Music
My global project, The Pioneer Women of Latin Music, is an extension of my research project, Las pioneras de la música latina, for my Hispanic Studies senior seminar. In sum I apply the concepts of transculturation through musical frictions, crossover, and bilingualism to Celia Cruz, Selena, and Rosalía, icons who significantly contributed to Latin music. In order for this capstone project to serve the dual purpose as my Hispanic Studies senior capstone and as a global project, I wrote 20 pages of it in Spanish for class and wrote a six-page summary of it in English so it can be read by a larger audience.
My inspiration for this paper came from a course I took with Professor Medina my junior year called "Cuba: The Pursuit of Freedom". We were given an open-ended assignment to write about Cuba. Of course, we talked about Cuba's colonial past, its dynamic relationship with the United States, and its transition to communism. But a theme we missed that I wanted to learn more about was about pop culture, and automatically Celia Cruz came to mind. She was an Afro Cuban singer from Havana who like most Cubans had a deep love for the island but was given little choice but to flee when Fidel Castro came into rule in 1959. As such, she was a cultural figure that had strong political convictions. In my investigation of Celia Cruz, I learned about her input into the creation of salsa music, her success in carving the pathway for other women in a male-dominated career, and her crossover success.
As I explored the life of Celia Cruz, I became increasingly interested in the pop icon, singer, and fashion designer Selena Quintanilla-Pérez. Selena had been singing from a young age and made her breakthrough in the 90s until her tragic death in 1995. Immediately, I began to make a number of connections between Celia Cruz and Selena. One is that they both carved a successful career in a male-dominated industry, thus earning the nicknames as the "queens" of their genres, with Celia as the Queen of Salsa and Selena as the Queen of Tejano Music. Secondly, they both have Latino heritage but rose to fame in the United States highlighting their success in musical crossover. The third is the impact of the deaths of these two artists that caused communal mourning which is still felt through the legacies they hold in today's society posthumously.
At this stage of the brainstorming process, I had numerous strong connections between two talented women but needed the third artist to demonstrate how crossover is not a unique phenomenon in Latin America and can manifest in different contexts. It can easily be misperceived that transcultural music-making only happens in places like Latin America given its diverse historical background. These interactions and close proximity between people produced new rhythms that evolved into their own music. Introducing an artist like Rosalía, who made significant contributions to the fusion genre of flamenco pop, proves that crossover and musical fusions occur in European societies as well. Before I came to Wheaton, and like most people, I did not know that Spain had many cultures, one of them being the Romani (Gitano) people who claim the musical genre of flamenco. In addition to Rosalía confirming my thesis, I foresee her rising popularity putting her on the same level as other icons like Celia Cruz and Selena. Before I knew it, I had three women who all speak and sing in Spanish, although not all Latina, representing different cultures and countries, from different decades, singing different genres of music.
Two of my most striking discoveries was Selena's journey of learning Spanish, and the number of criticisms that Rosalía receives because of her identity as a privileged white European woman. Little did I know that Selena was not always fluent in Spanish, and learned Spanish to become a singer. Rosalía often is critized for appropiating the Gitano music genre of flamenco, and also for entering the Latin music genre of raggaeton.
Global Honors Reflection
The second half of completing my Global Honors was the reflection component. For me, my global experiences were not abroad, but rather they occurred within the borders of the United States spanning from New York City, Miami, and Cleveland. I was able to live global experiences in these cities due to my interactions with different migrant groups ranging from Latinxs to Middle Easterns. A major theme in my reflection revolved around language. As a brown-skinned Latina, people always assumed I spoke Spanish, and when I didn't people would automatically shame me. This pain and judgment have made me into the motivated Spanish learner I am today. Of course, I don't always get it perfect, but that's the beauty of learning, and I always strive to be better.
I also had global experiences in Cleveland, this time with refugees who were predominately from Africa and the Middle East, specifically from countries like Somalia, Ethiopia, the Democratic Republic of the Congo, Syria, and Afghanistan. I got to interact with these communities for the first time when I interned at US Together, a refugee resettlement agency, over the summer of 2021. Typically, I would consider myself to be open-minded and non-judgmental but still, there were cultural differences that took me by surprise.
I worked with a client at outdoor markets who would always seek hot tea. As abnormal as I thought it was, instead of dismissing his request, I joined him on his quest. I realized it was my implicit cultural biases that led me to think his cultural behavior was strange, as I did not share the cultural importance of hot beverages even on the hottest of days. When possible, I would go to the nearby Starbucks and got him his hot tea and myself an iced coffee so he could stay by his table and continue to sell his gemstone jewelry.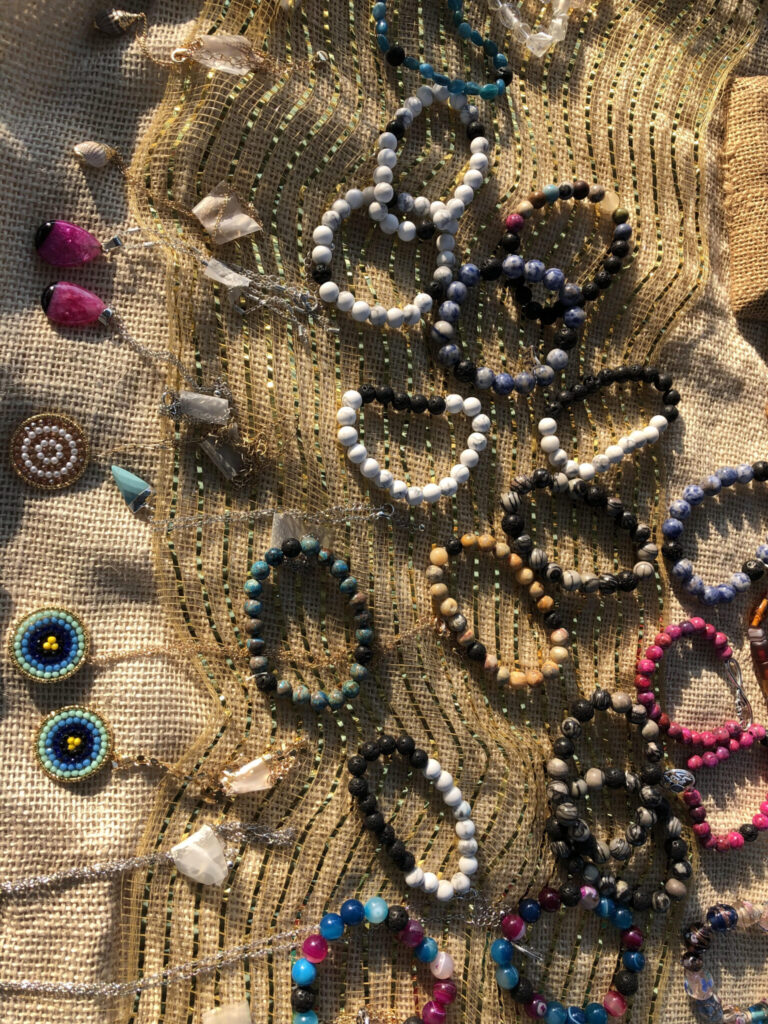 As culturally competent as I thought I was, I caught myself again judging and romanticizing scenarios. When I first heard my coworker speaks five languages I thought wow that's so cool! But then I realized, as unique of a skill this was, I was not aware of the burdens and joys that came with this, as he is a Somalian refugee. Furthermore, working with refugees, I reflected on how fortunate I am to be a citizen of the United States, as I was just two months shy of being born in Venezuela, having the privilege of liberty.
Concluding Thoughts
After Wheaton in the summer of 2022, I will be starting a job as an AmeriCorp VISTA associate with Homes Not Borders, a non-profit organization in Maryland that offers support to newly resettled refugees through donations, job, and career support, and assistance in connecting them with our partner agencies. My Global Honors will be helpful in this new job given the transnational aspect of working with refugees along with my critical thinking surrounding culture. As a Hispanic Studies major, I was able to apply my critical thinking skills in relation to working with refugees. Specifically, in learning about Spain's early modern period I've become aware of the "21st-century lens" I wear and revisit the material we learn from the perspective of the people of the time. Similarly, I cannot dismiss or romanticize the cultural meanings refugees carry with them, instead, I have to take off my "western lens" and understand them from their perspective. As I enter a new chapter in my life, this new global experience will continue to make me more mindful, confident, and kinder to myself and others.
Special Thanks to…
I really appreciate the support I got from my major advisors, Professor Chow and Professor Pérez-Toribio in the brainstorming process. I would also like to thank Professor Fernández de Alba and Professor Sarhan, who gave me numerous rounds of feedback on my global project and reflection. In times of doubt, Professor Fernández de Alba provided me with hope and revived my ambitions for the honors through his generous words and timely feedback. It was an honor to work with Professor Sarhan who helped me tremendously with my personal writing, from my very first semester at Wheaton College with anecdotal stories to my very last, with my global reflection.