Creating Professional Portfolio Websites
Education, Business & Management
By: Tessa Kishbach (Class of 2022)
Nominating Faculty Member: Professor Sara Donaldson Additional Faculty Support: Professor CC Chapman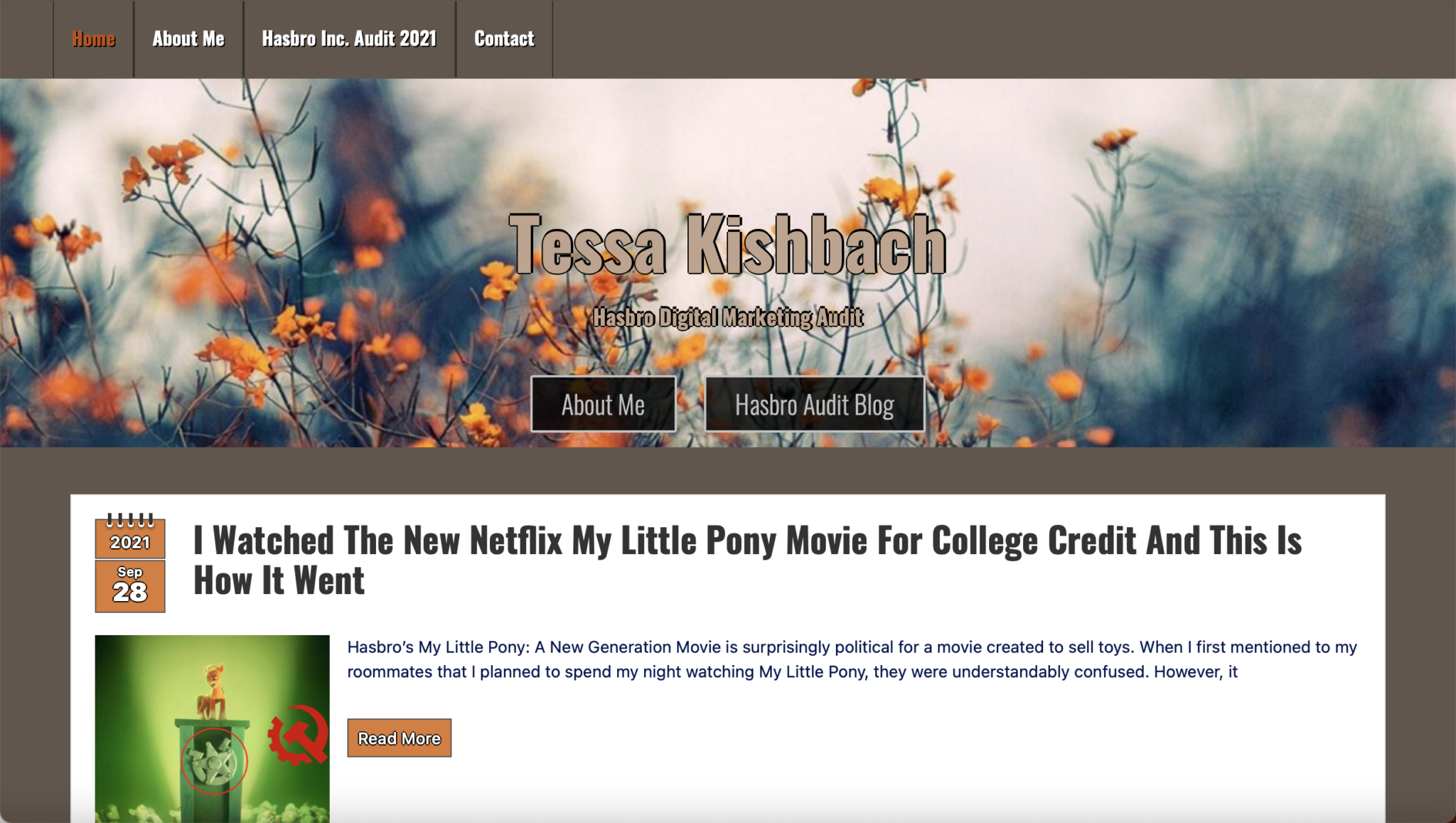 In my senior year of college, I created two professional portfolio websites using WordPress, a website building platform. Each website showcases my skillset for one of my two majors. As an Early Childhood Education Major and a Business & Management major, it is rare that content between my two majors overlaps. I was intrigued by the possibility of applying skills I gained in a business course to an education course.
I created my first website in Professor CC Chapman's Digital Marketing course (Fall 2021). In this course, I audited Hasbro Inc.'s digital marketing strategy. My first website features blog style posts with commentary on Hasbro's various advertising ploys. Learning to use the WordPress platform was challenging. While creating my first website, I became frustrated by the constraints of the WordPress template system. Although these templates were helpful as an inexperienced website designer, options for fonts and launch page formats were limited. After watching a couple Youtube videos to brush up on my coding skills and a lot of hours of perseverance, I was able to work around these restrictions.
The following semester, I was excited for the opportunity to create another website. This time in Professor Donaldson's Senior Seminar for Early Childhood and Elementary Education Majors. My second website showcases my teaching philosophy, skills as an educator, and sample lesson plans. It also includes highlights from my experience student teaching Kindergarten (Spring 2022).
Although the content of each website is very different, the mechanics behind their creation were very similar. For this reason, it was much simpler to create the second website. Now, I am not only confident in my skills to create WordPress websites, but I also feel more prepared to join the workforce post graduation. Since both of my websites are professional portfolios, they can be shown to potential employers during the application and interview process.